The Apple TV is an amazing gadget, but for some reason Apple doesn't allow users to wirelessly stream video from a Mac to the device.
If you are willing to put up with a few bugs and have $10 to spare, you should checkout a third-party app called AirParrot that lets you mirror your MacBook Air's display over your Apple TV without any wires or hacking.
Yes, you can wirelessly stream from Mac to Apple TV, for just $10.
It's great to see that someone is making wire,was streaming to the Apple TV from your Mac a reality, especially since practically every Windows notebook sold this year can wirelessly stream to a $99 Wireless Display adapter.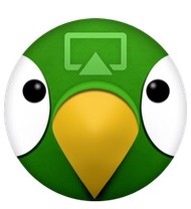 Currently the app will only mirror your display, like the iPad or iPhone does for the Apple TV, so you can't use your HDTV as a second monitor. You are also limited to the same resolution as your main display, so you may not have the best resolution for your HDTV.
Another major issue with this early version of AirParrot is the lack of audio. If you plan to use AirParrot for presentations or just to gain a larger display, no worries. If you need audio, you'll want to look for some good Bluetooth speakers. Hopefully we'll see wireless streaming with audio in a future update, or the ability to use alongside AirFoil.
Here's a video demo showing AirParrot steaming a Mac to the Apple TV without any wires from TUAW, which has a short review of AirParrot.
I'm looking forward to trying out AirParrot, but I think it will need to bring more to the table to catch the eye of the public.
Purchase AirParrot for $9.99 for Macs with Nvidia or Intel Graphics running OSX Lion or Snow Leopard.
Advertisement