Léo Apotheker is the new CEO and President of HP. At a meeting of the Board of Directors of HP on Thursday September 30th the group announced the election of Apotheker who brings over 20 years of experience from SAP to the company.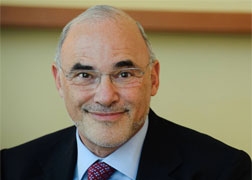 While Apotheker was with SAP he helped the company achieve 18 consecutive months of double-digit software sales growth. He has also been awarded the French Légion d'honneur in 2007 in recognition of his business leadership and contribution to the French economy and served on the board of over 20 public and private companies include a term as the President and CEO of Oracle.
If Oracle sounds familiar it's because that's where the former CEO of HP, Marc Hurd, started working after an abrupt exit from HP in early August. Originally HP filed a lawsuit to prevent Hurd from joining Oracle, but dropped it just last week.
Apotheker joins HP at a time where the company needs a strong leader with a clear vision for the company. Despite a big announcement at CES last year we've yet to see the real HP slate and with the purchase of Palm it seems that HP should be poised to enter the growing tablet marketplace; but so far all we've seen are some leaked videos and blacked out images and another announcement for a HP tablet named the PalmPad in 2011
Let's hope Apotheker settles in quick so HP can make progress on their slate tablet and that he will support the recent direction of HP consumer notebooks, including the HP ENVY series and latest Pavilion upgrades, which we like.
Advertisement