The newly refreshed HP Pavilion dv7 is one of the Pavilion notebooks which received an update this spring as part of HP's MUSE (materials, usability, sensory appeal and experiences) design and it brings many changes that users will notice the moment they lay eyes on this 17″ powerhouse.
HP has updated the HP Pavilion dv7 with a quad speaker setup, new umber metal finish and the latest Intel Core i processors.
First and foremost, plastic is gone; it's in the recycle bin like last year's free mp3 files. HP has moved to a warm brushed aluminum finish that captures the Imprint design of previous HP notebooks but adds a layer of design that you can feel when you run your hands across the textured lids. HP has also added a backlit HP logo to the dv7 to make it pop" a little bit in the current notebook market.
The HP Pavilion dv7 is very similar to the Pavilion dv6 featured in the above video.
In addition to the updated design and usability enhancements on the new HP Pavilion dv7, will be available with your choice of an Intel Core processor or an AMD processor that is part of the AMD VISION or VISION PRO family. The dv7 will also give users plenty of power in the graphics department with powerful discrete graphics choices including 1GB VRAM hybrid Power Express and Crossfire support.
As part of the design refresh the metal lid wraps around to the palmrest and keyboard tray, even enveloping the hinges which are also made of aluminum. The HP dv7 features a revamped multi-touch trackpad and an island style keyboard that has been designed with usability in mind. This means good key spacing and a dedicated F-row for function key like volume, brightness, projector and other settings. Thanks to the extra size, the HP dv7 includes a full size number keypad.
Detail oriented users will enjoy several other updates to the new HP Pavilion dv7 including the diamond cut keyboard and trackpad edges, included artist designed backgrounds installed in the notebook and the high end audio options.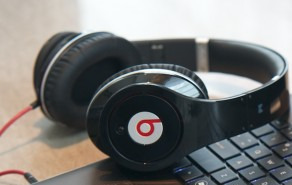 In addition to the Altec Lansing Speakers and HP Triple Bass subwoofer the HP dv7 can be configured with Beats Audio for an amazing audio experience including virtual surround sound.
The HP Pavilion dv7 also includes an HP TrueVision Webcam for better performance in low light situations and HP QuickWeb, which will give users access to the Web without booting up Windows.
The fingerprint reader built into the brushed aluminum HP dv7 uses the new HP SimplePass technology to allow users to log onto nearly any secure website, such as Gmail or Facebook, with the swipe of a finger. This will be especially helpful for users who have created a strong password and have trouble remembering it.
The HP Pavilion dv7 has a 17″ HD display, can be configured with up to 2 TB of storage with a dual hard drive option and is available in brushed aluminum. The HP dv7 comes standard with an HDMI port, eSATA/USB combo port, VGA out and can be configured with a Blu-Ray drive. You can purchase the new HP Pavilion dv7 starting at $849 on May 19th from HP Direct.
We will update this post with more detailed specs as soon as they are revealed.
Advertisement