Kensington is releasing two new Apple iPad cases. The Kensington KeyFolio Bluetooth Keyboard and Case for iPad and the Kensington Folio Case for iPad are both available now to pre-order at Kensington's web site.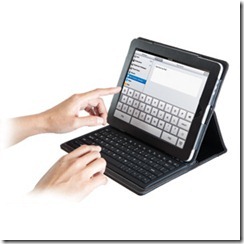 The KeyFolio Bluetooth Keyboard and Case is  what the name suggests a case with an integrated Bluetooth keyboard.
This is not the first iPad case like this that we've seen. The other was by AIDACASE however it has a higher price point at about $130 with sale prices of $100. The Kensington model retails at about $100 and comes in a black faux leather folio case that when opened, will prop up the iPad for easy viewing while typing. It has openings for all the buttons, ports and speakers. The keyboard is a rubber-like material that Kensington says won't scratch the screen of the iPad when closed. The keyboard has keys that are specific to the iPad, although the website doesn't say what those are.
The Bluetooth 2.0 keyboard is battery-powered and claims to last for 90 hours of use and 100 days in standby. The Lithium-ion battery will take four and half hours to charge from full drain.
You can pre-order the case at the Kensington site and the announced ship date is November 1, 2010.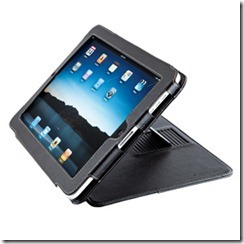 Kensington's other new case is the Folio Case, which looks like a similar case, but without the integrated keyboard.
It is made of the same synthetic black leather and has all the openings for buttons, ports and speakers. The inside of the case is padded to protect the iPad. When opened, it can be put into an adjustable viewing angle. The cover has a magnetic fastener to keep the case closed when not in use.
It also can be pre-ordered at the Kensington site for deliver around October 15, 2010. The retail price is $39.99.
Advertisement