MiLi is offering an a case that not only protects your iPhone and solves the antenna problem, but also extends the battery of Apple's latest iPhone. The MiLi  Powerspring iPhone 4 case will put a dent in a buyer's bank account at about $85 (55 pounds). It has enough power to add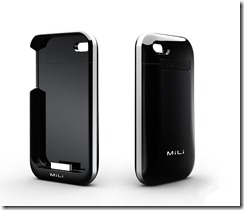 the following:
Standby time: Up to 360 hours
Talk time: Up to 6 hours on 3G
Up to 13.3 hours on 2G
Internet Use: Up to 6 hours on 3G
Up to 10.6 hours on Wi-Fi
Audio play: Up to 36 hours
Video play: Up to 10.6 hours
When one looks at the dimensions, it seems like it doesn't add too much size or weight to the iPhone (124mm x 65mm x 18mm). MiLi says that it is the world's thinnest iPhone 4 battery pack and charger that will double your battery's life." Having a battery backup case seems like a more useful solution than many of the small add-on battery backup devices like those from Kensington or Mophie.
One of the nice things about a device like this is that it charges the battery and the iPhone using a standard mini USB cable, something many computer users will have in their bag already for other USB peripherals. Once plugged in it becomes a charging station with another USB mini out port that can be used to charge a Bluetooth headset or some other device. That's something you cannot do with the Mophie case.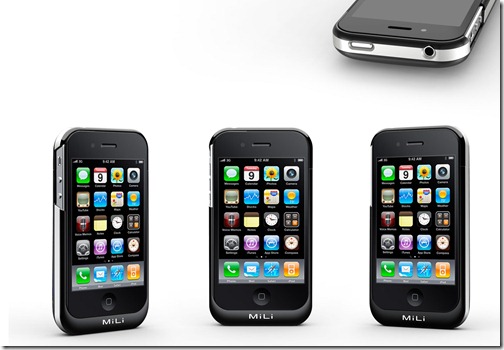 While connected to the iPhone the MiLi battery is prioritized until it has less than 5% life remaining. At that time it stops providing power to the iPhone until the iPhone battery is fully drained at which time it switches back on. If the MiLi is plugged into a power source the iPhone will run on that power instead of draining its battery or the MiLi battery.
One thing that makes these kinds of cases annoying is they cover up the dock connector. MiLi advertises that the case helps when viewing multimedia. But what if you want to connect the iPhone to a TV using the Apple video out cable that utilizes the dock connector. You are out of luck if it is in the case. Of course the Apple cable has a plug, but I wish these companies would add another dock connected pass through at the bottom of the case just for this kind of situation.
The case is available in the UK from Powerskin.co.uk (site says available late August) and at Amazon (ships in 1-2 months) in the US.
Advertisement