With the new iPod Touch adding FaceTime, the lines between the iOS device and the iPhone have been blurred. With the help of Gogii, the lines are blurring further now that iPod Touch users can send picture messages and more. The new version of Gogii's popular iPhone and iPod Touch app, textPlus, has added some interesting features.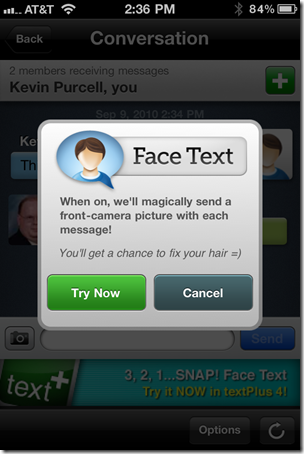 I spoke with Gogii (pronounced Go-gee) president Zack Norman. He was really excited about the concept of taking text messaging to a visual level. Teens and young adults have chosen the text message as their default form of interpersonal communication.
One only need ride with a teen boy and his girlfriend as they text each other instead of talking. With textPlus 4 Pics Edition (free in the Apple App store) and the front facing camera on the iPhone 4 or new iPod Touch, he said that the flat text message can also have a more automatic visual element as well. We already have Multimedia Messaging System or MMS, but this is different because it is more automatic and works on the iPod Touch, which does not have any message capability built into the device.
With textPlus 4 Pics Edition a user signs into her account and starts a conversation with one or more of her contacts. While texting, she will tap the camera button next to the text input field. A popup menu asks, like regular MMS, to take a picture or add an existing image from the library. A third option is to turn on Face Text. This will allow her to enter her text message, but before sending it the front facing camera will automatically turn on and take a quick picture without even pressing the shutter release button. It essentially sends two messages one photo and one text. The benefit is that emotions can be exchanged along with text. There is a big difference between someone responding to my claim that I am the fastest person in the world by saying Yeah, right!" with a sarcastic tone or with a reaffirming tone. With textPlus 4 Pics Edition, the respondent can not only type the words, but send an image rolling her eyes in disbelief. I will know immediately which one it is.
If textPlus was a walled garden requiring the use of the app to converse, it would be of limited value. But fortunately Gogii has made it possible so that users can interact with others who don't use the app – a must for those without an iOS device or an Android device. The person receives the text as if it was a normal text message. The image is not transmitted the same way. It is a link to the image.
textPlus is not a new app. Previous version just didn't have the imaging and a few other minor features. One thing that is not new  is the unique community aspect. Communities are still present, only now they can exchange photos too. When a group of people, either in the app or by mobile number, are included in the community, every message to the community is received by the entire community.
For example, I could set up a group of family members adding all of their cell phones whether they use textPlus or not. Then, when youngest son is playing in a soccer game, I can snap pictures of the winning goal he scored and send it out to his mother who is at work, his other brother who is on a date, the grandparents and an online picture sharing site that allows posting images via mobile phone, like Flickr all with just one text. Each of the people in the group can respond and all members will see the message.
There are already a lot of groups in which a user can take part. I found one about my beloved Packers and people recommending iPad apps. I created one about Notebooks.com called NOTEBOOKSCOMREADERS which you can join and discuss this article or anything else related to the site. I am also considering using it to set up a quick blast communication group for our church so that when we have cancellations due to bad weather, everyone will get a text about it.
To make it easier to get going, textPlus will use your contacts database on the phone or Touch. And it will search your contacts if you approve for people already using the service.
Curious about the Zack Norman's theory that teens would want text messaging to become a more visual medium, I gave the app to my 16 year-old son. He said it was cool, but then when I pressed him on how much he would use the pics part of the app, he said not very much. He would rather use emoticons like this 🙂 rather than a picture of his smiling face. But he has an iPhone. This is more likely to be a really useful app for iPod Touch users, especially now that it too has the front facing camera.
With a tool like textPlus, the iPod Touch is even more like an iPhone, with text and multimedia test messaging all for free, if you don't mind a few ads. The app has an in app purchase to remove the ads for $2.99. It also has the ability to add three different sound packs. Each sound pack is an additional $.99.
textPlus 4 is also available on the iPad and Android OS without the newer FaceText feature. All versions of the app will work with the same user accounts and will receive FaceText messages. Only the newest release running on an iPhone 4 or the newest iPod Touch will send pictures too.
Advertisement