The iPhone 4 was just announced at WWDC and already journalists are fighting their way to the demo tables to bring you all their first impressions of the new iPhone.
The first iPhone 4 hands on reports are coming in from Engadget, Ars Technica and TechLand. We expect to see more soon.
Engadget – Joshua Topolsky
Engadget –iPhone 4 first hands-on!
Engadget was just shared their hands on impressions of the new iPhone 4 complete with an "across the room" demo of FaceTime which you can see at Engadget.com or check out an embedded demo at the bottom of the page. Below are a few of their first impressions.
"As we said, it's shockingly thin.
The screen is truly outrageous — you basically cannot see pixels on it. We're not being hyperbolic when we say it's easily the best looking mobile phone screen we've ever laid eyes on.
The build quality is really solid."
Ars Technica
Ars Technica – Ars at WWDC 2010: hands on, pics of the new iPhone 4 – Many great pics
"As for speed, the iPhone 4 is fast. It's hard to perceive the differences between an iPhone 4 and iPhone 3GS, but it's definitely on the speedy side, on par with the iPad. We'll do more speed testing when we get our hands on one for review, but for now, we're optimistic. Typing was very fast for me, whereas typing on the original iPhone usually results in me getting several words ahead of the phone itself."
Ars has a great collection of pics and had some of the best coverage. Head over to their iPhone 4 hands on for more info.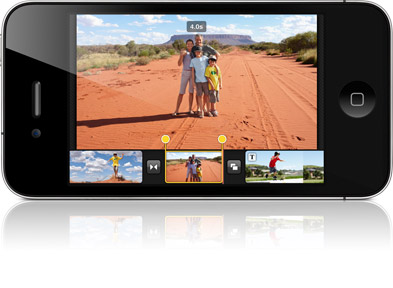 TechLand – Hands on with the iPhone 4 – Comparison
Peter Ha from TechLand had to quickly share his impressions as he ran to catch a flight but includes what's on everyone's mind – how the iPhone 4 compares to the iPhone 3GS.
"Compared to my iPhone 3GS, the 4 felt much lighter. Everything was snappier including the camera. Hard to gauge image quality without seeing photos on a larger screen.

It's so incredibly thin. When compared to the 3GS, the iPhone 4 comes up to the chrome bezel."
The Variety Guy – iPhone 4 FaceTime Demo Video
MacRumors – iPhone 4 Hands-On Reviews and First Impressions
MacRumors has rounded up Twitter impressions from influential bloggers like Ryan Block of gdgt who was, "in complete awe.", and John Gruber of Daring Fireball who told his followers the, "New display looks insane in person."
Huffington Post – iPhone 4 is a Stand-Up Triple – Not a homerun
HuffPo blogger Larry Magid shares a video (below) of the iPhone 4 and his first impressions of the new iPhone. A portion of his thoughts are below.
"Anyone who's battery has died before sunset will appreciate the new phone's battery which is slightly bigger. The battery, plus Apple's use of its own more power friendly A4 processor, should yield 40% more talk time according to Jobs.

After spending a couple of hours listening to Jobs and playing with the phone, I'm impressed but I'm not overwhelmed, but in a way, that's the way it should be. Technology evolves and the iPhone 4 is clearly a good move forward." – Larry Magid
Wired – Hands-On With the iPhone 4 – Massive amounts of pictures
"Multi-tasking couldn't have come at a better time. On the iPhone 4 it worked very smoothly switching between Pandora, Photos and the iBooks app

…

The iBooks app is also expanding to include a PDF viewer. We tested one out, and it worked nicely." Brian X. Chen
Credit: Jon Snyder/Wired
Advertisement