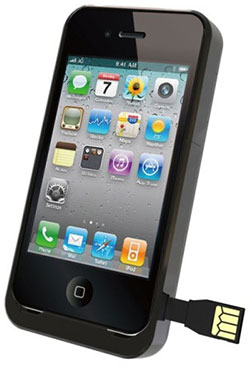 aigo has is offering another battery backup case for the iPhone 4 with a useful addition that that others don't have – an integrated USB charging cable.
Like other battery cases for the iPhone, the aigo aiPower i616 offers battery backup for iPhone 4 users who tend to drain their phone's battery due to heavy use or prolonged times between access to power for recharging. The company promises 300 hours of standby time from the 1500mAh battery inside the case. In addition the case adds 10 hours of Internet usage, video playback and 40 hours of audio playback.
In addition to the integrated USB cable, there is a microUSB port on the case to plug it into a computer or power source for syncing or charging. The switch will toggle between battery usage versus the internal iPhone battery. And a set of LEDs and a button helps the user monitor how much battery life is left in the case.
Another nice feature, besides the integrated cable, is the $79.99 price tage, $20 less than the new Mophie Juicepack Plus, which of course does offer a bigger battery.
Advertisement