The HP Mini 5102 netbook from HP may not be as recognizable as the HP Mini 1000 or the HP Mini 210 consumer netbooks that you may have seen at local coffee shops and airports. That's because the HP Mini 5102 is a netbook designed for business users and the education market with extra features and durability that help it survive more demanding use than its consumer-grade peers.
The HP Mini 5102 uses the Intel Atom N450 processor and starts at $415.
HP Mini 5102 Video Tour and First Impressions:
After using the HP Mini 5102 for 3 days I can definitely agree that it is a level, or three, above my old HP Mini 1000. Not only is battery life significantly longer, the 95% full size keyboard is much more usable and the aluminum case looks and feels good.
The case is made of aluminum and a magnesium alloy to add durability and reduce weight. The keys on the wonderful keyboard are coated with HP's Durakey finish which gives them a 50% longer life when it comes to wear. This means you won't see the lettering rub off of heavily used keys during the life of the netbook.
There are a few other cool options for the HP Mini 5102 like a multi-touch gesture supporting touch screen, handle for easy carrying and integrated mobile broadband; but our model was not equipped with these.
Our model does have HP QuickWeb and QuickLook software for fast access to the web and a fast look at your email and calendar respectively. This works nice and is an easy way to quickly check something.  Now that HP has purchased HyperSpace and WebOS we may see more HP notebooks and netbooks shipping with these features.
While I am overall impressed with the form factor and processing power of the Intel Atom N470 processor, the screen resolution and mousepad leave me wanting. The HP Mini 5102 model I am reviewing only supports up to 1024×600 resolution, instead of 1366×7668 which is becoming increasingly popular, and the mousepad is rather small for extended use. Thankfully, there is a HD version of the HP Mini 5102 which supports the higher resolution and a bluetooth mouse can fill in on extended length sessions.
We also have the new HP Mini 210 consumer netbook in for review and will be putting it to the test over the next couple of weeks. When we share the full review of the HP Mini 5102 I will include more insight on how it compares to the consumer model and to the HP Mini 1000 which I own. If you have questions please leave them in the comments.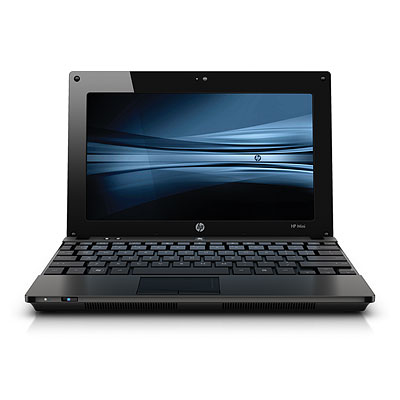 HP Mini 5102 Specifications as Tested:
CPU: Intel Atom N450, 1.66 GHz
Memory: 1 GB
Storage: 160 GB, 7,200 rpm
Display: 10.1-inch, 1024×600 (a 1366×768 hi-res option is available)
Ports: 3xUSB 2.0, VGA out, audio in, audio out, power, RJ-45, SD/MMC slot
Communications: Wi-Fi 802.11 a/b/g/n
Webcam: 2 megapixel
OS: Microsoft Windows 7 Starter
Battery: 6-cell, rated at 10 hours and 4 cell rated at 4.5 hours
Dimensions and weight: 10.3 x 7.09 x 0.98 inches, 2.64 lbs.
Advertisement