HP is going all in on Ultrabooks this spring with the introduction of the HP ENVY SleekBook and the ENVY Ultrabook.
Both of these ENVY notebooks include 14-inch and 15-inch configurations, and attractive starting prices.
The HP ENVY Sleekbook starts at $599,while the HP ENVY Ultrabook starts at $749.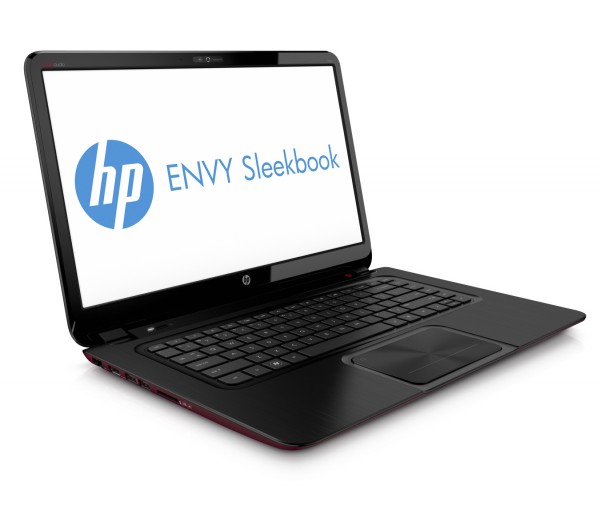 HPÂ ENVY Sleekbook & ENVY Ultrabook Specs
HP's Envy Sleekbook 15.6-inch size will only come with AMD APU processors and discrete graphics with a 320GB hard drive, which is why the notebook starts at $599. The 14-inch model will be available with 2nd gen and 3rd Gen Intel Core i Processors and a 500GB hard drive.
The HP ENVY Ultrabook will ship with 2nd and 3rd gen Intel Core i processors and a 500GB hard drive with a 32GB mSATA Cache for faster boots and access to frequently used programs.

Advertisement
Both of these notebooks are slim, measuring 19.8mm thick and starting weights of 4 pounds.
HPÂ ENVY Sleekbook & ENVY Ultrabook Features
Even though the new Sleekbook starts at $599, all the new ENVY Sleekbooks and Ultrabooks come with a collection of features expected in the ENVy line.
Beats Audio – Listen to music the way artists want you to hear it with this premium audio solution from HP and Dr. Dre. This is the first time Beats Audio is available in large screen notebooks, and includes a subwoofer.
HP CoolSense – CoolSense knows when the notebook is getting to hot and can sense when it is on a lap or on a table to adjust fans and processor usage to keep the notebook from overheating.
ProtectSmart – ProtectSmart locks the hard drive when it senses a fall, in an attempt to save the hard drive and your data.
HP TrueVision HD webcam – The HD webcam should deliver a better than average video chat experience in Skype and Google+ Hangouts.
ENVY Sleekbook & ENVY Ultrabook Battery Life
The HP ENVY Sleekbook models claim up to 9 hours of battery life. The 15.6-inch Ultrabook also claims 9 hours of battery life, but the 14-inch ENVY Ultrabook is limited to 8 hours.
These stats will likely shrink by 20% in the real world as users crank up the screen brightness and use resource intensive programs, but that should still deliver 6-7 hours of battery life.
ENVY Sleekbook & Ultrabook Price and Release Date
The HP ENVY Ultrabook models will be available on May 9th, as will the 14-inch Sleekbook. The 15.6-inch Sleekbook will not arrive until JUne 20th.
HP ENVY SleekBook 14″ – $699
HP ENVY SleekBook 15.6″ – $599
HP ENVY Ultrabook 14″ – $749
HP ENVY Ultrabook 15.6″ – $799
HP ENVY SleekBook & Ultrabook Gallery
Advertisement