The Lenovo ThinkPad Edge 15 is a beast. The 15-inch machine is large when compared to most other notebook computers in its class. Reviewed in the glossy Heatwave Red, the Lenovo ThinkPad Edge series is a powerful yet affordable line of notebooks for business professionals.
Impressions
When the Lenovo ThinkPad Edge arrived, I was surprised that it felt lighter than expected. Weighing in a 5.5 lbs, the 15-inch Edge is not exactly transportation friendly. Although easily portable for such a large notebook, this is not a computer that you'll want to transport on a daily basis. The 15-inch Edge is best suited for professionals or computer enthusiasts who only occasionally travel. The 15-inch model will be most happy sitting in a desk where it can show off its vibrant LED and HD screen.
The biggest attraction to the 15-inch Edge other than its bright glossy finish is the beautiful large screen. The maximum resolution of the screen of the unit I reviewed was 1366×768, and the Matte finish was easy on the eyes. There was no trouble viewing the screen because of glares or reflection. This is the type of notebook that is often used for viewing media, reading, creating presentations and other tasks that utilize additional screen real estate. The various ports including HDMI allow for the Edge to output presentations or videos to various sources such as an HDTV or projector.
The battery of this device is also much smaller than expected. A quick snapping into place gets the 15-inch Edge ready to go. Battery life seemed to fluctuate for a few minutes after the machine first booted. With 96 percent on the battery during my first boot, the indicator went back-and-forth between 2 hours and 50 minutes to a little over 4 hours and 30 minutes. After getting all processes started, the battery life icon showed about 4 hours and 40 minutes and then slowly decreased with standard usage. It appeared that battery life is somewhere around the stated 4.5 hours of use. The lack of battery life over 5 hours is yet another reason the 15-inch Lenovo would likely be most happy sitting on your desk and plugged into the wall.
Design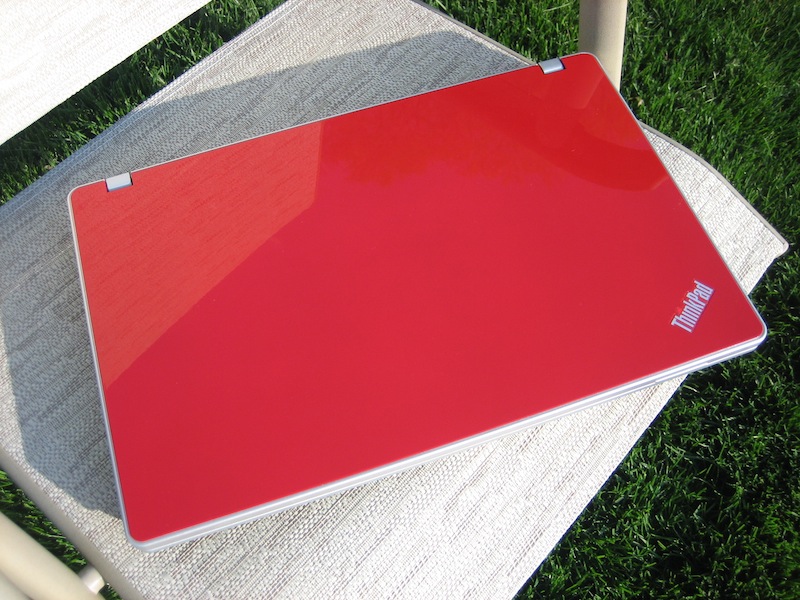 The Heatwave Red finish of the 15-inch model I reviewed was certainly vibrant and attention getting. I'm not sure it is the best suitable color for a business focused notebook, but it will definitely stand out in a crowd and provide you with a little pizazz. True to Lenovo form, the ThinkPad Edge features a large, comfortable, spill-resistant keyboard. In fact, the Lenovo keyboard is so large that it may take some practice. The keyboard has a classic feel with good key travel. The trackpad is adequate size with two additional buttons above and below the sensor. The ever popular and traditional ThinkPad pointer stick can be found in the middle of the keyboard. The multitouch trackpad offers easy and simple two finger scrolling. Unlike other notebooks I have used in the past, I experienced no problems zipping through webpages with two fingers.
The plastic shell of the notebook feels like a budget level or entry notebook. There are certain areas where the plastic would flex under moderate pressure, mostly around the built-in DVD drive. There were no structural flaws or real problems with the case design, but it didn't feel as sturdy as other aluminum or well-built plastic notebooks.
ThinkPad Edge 15-inch Specs
15.6″ LED, HD Widescreen Display
Up to 4.5 hours of battery life
Starting weight of 5.5 lbs
4 USB ports, including 1 powered and 1 USB/eSATA combo
7-in-1 card reader
Includes built in DVD
Multitouch trackpad for easy scrolling
Optional integrated fingerprint reader
Built in webcam for video conferencing
Windows 7 Professional
The Windows 7 Experience Index score came in at a respectable 4.0. Windows 7 provided an expected user experience and the additional tweaks such as Wi-Fi management that Lenovo provided was helpful. The fan did seem to come on somewhat often and was noticeably loud in a quiet room. Something else that was loud were the speakers. Mounted directly under the screen, the 15-inch ThinkPad Edge was able to put out a pretty loud tune for the small area it is given. Like most notebooks, there wasn't much bass, but I was pleased with the overall volume produced from the speakers.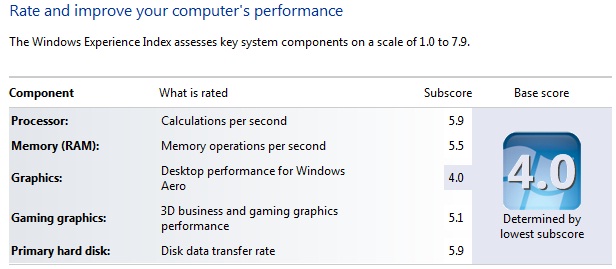 The 15-inch Edge is similar to other business oriented, affordable computers available on the market, but it is a solid brand that is available at a reasonable price. Coupled with Windows 7, the 15-inch Edge will meet the needs of not only business professionals, but people seeking a reliable notebook. The ThinkPad series is a respected, powerful line of notebooks with a strong reputation of being quality products. Below are a few pros and cons I discovered while using the 15-inch Edge.
Pros
Comfortable keyboard with multitouch trackpad
Screen size and matte finish
Speakers produce pretty good sound considering size
Affordable
Cons
Weak battery life
Flimsy plastic feel
Glossy case attracts a lot of fingerprints
Overall size and weight
For the price, currently on sale at Lenovo for $649 USD, the 15-inch ThinkPad Edge is an affordable, full featured notebook computer. Many may find the 15-inch model suitable as a desktop replacement with the added bonus of being portable if necessary. Look to Lenovo's 13-inch ThinkPad Edge if you'd like a similarly designed notebook in a more portable package.
Lenovo offers the ThinkPad Edge in 13″ and 14″ models with various configurations. Check out this Notebooks.com review to learn more about the 13-inch ThinkPad Edge and how it might suit your needs.
This video teaser from Lenovo highlights the finer points of the ThinkPad Edge series.
Advertisement