Acer announced a new high end laptop, the Acer Aspire AS8950G-9839, which is part of the company's flagship series at CES 2011 in Las Vegas today. The new 18.4″ Aspire laptop will use the latest SandyBridge 2nd generation Core i processors with a Intel Core i7-2630QM processor giving the machine some serious speed.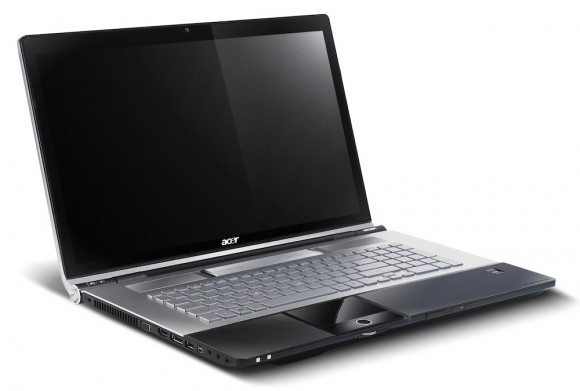 The AS8950G-9839 will also get a boost from the latest ATI Mobility Radeon 6850 graphics processor which has 2GB of dedicated video memory and 8GB of DDR3 dual-channel system memory which is upgradeable to 16GB for maximum performance.
With an 18.4″ CineCrystal display the AS8950G-9839 will deliver a home theater experience in full 1080P and provide advanced audio with Dolby optimized Acer Cinesurround that uses five built-in speakers and a subwoofer to tickle your eardrums. The included HDMI port can connect to your HDTV to take the action to a larger screen.
The Acer AS8950G-9839 comes with an 750 GB hard drive and can support dual hard drives for up to 1.5TB of storage. There's a firewire port and eSata ports for data transfer. There's also a multi-gesture trackpad which can be switched over into media mode for media controls and volume control.
To keep in touch there's a 1.3MP webcam and a built-in microphone as well as 802.11b/g/n WiFi and gigabit Ethernet.
The Acer AS8950G-9839 will be available starting January 9th for $1,599 at many retailers.
Advertisement