Acer is refreshing there TimelineX models to include newer hardware in three different sizes. The purpose of the TimelineX series from Acer is to give customers a mix of good performance, mobility and long battery life. The three different sizes are a 13-inch (3820T), a 14-inch (4820T) and a 15.6-inch (5820T), all powered by Intel Core i3 or i5 processors.
The Acer TimelineX is known for being a performance system with a thin design and long battery life. These three models all have that. Acer is aiming them at students and professionals who need to be on the go and not connected to the power outlet.
Acer Aspire 5820T
With a 15.6-inch screen and the faster Intel Core i3 or i5 processors, this notebook is for people who still want something slim, but need or want the bigger screen. It comes with 4GB of RAM, expandable to 8. And Users can get either a 320GB or 500GB hard drive. Thanks to its size it has room for a full number pad and wide-screen display. It is a 5.5 pound notebook. There are two configurations available starting at $699.99.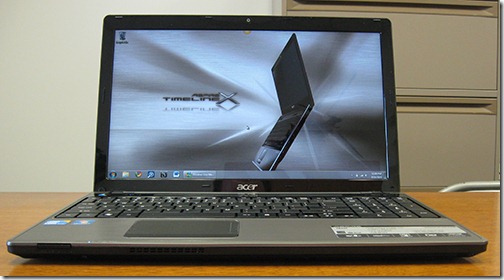 In our review of the 5820T we found that it offered good battery life and power, but suffered from a weak keyboard and speakers; something we hope is corrected in the refresh.
Acer Aspire 4820T
This model has a 14-inch display and offers an option for an ATI Mobility Radeon HD 5650 graphics. This graphics card allows the computer to run in full-power graphics mode for gaming or graphics intense task, but will then run in a lower power mode to save battery life when all that juice is needed surfing the web, document creation, or other simple day-to-day computing tasks. As Acer says, the goal is giving their customers … the best of both worlds maximum performance when connected to power and long battery life when on-the-go."
The 4820T ships with an Intel Core i5-460M processor and starts at $799.99.
Acer Aspire 3820T
Smaller notebooks are becoming scarce. So it is nice to see the 3820T, which is a 13-inch notebook that is small and has some power. Buyers can get either an Intel Core i3 or i5 processor. There are also options with either 3GB or 4GB of memory, expandable to 8GB. Acer adds 320GB of hard drive space. This is truly a mobile warrior's machine. It is less than 4 lbs. and .86-inches thick at the front and 1.14-inches thick at the rear.
Other Specs
All of the models in this refresh share a few thing sin common. They are:
CineCrystal LED-backlit display with 16:9 HD True Cinematic View
High viewing angles – our test of the 5820T proved that to be true
1366×768 resolution
Intel HD Graphics (except for models that come with ATI)
HDMI out port capable of 1080p
High Definition audio support with Dolby Sound Room and two built-in speakers
Full size keyboard (5820T also has a number pad)
Multigesture trackpad
Windows 7 Home Premium
1.3 MP HD Webcam capable of 1280×1024 resolution
802.11b/g/n Wi-Fi and Gigabit Ethernet
VGA port
USB 2.0 (some models have as many as four ports)
Multi-format digital card reader
1-year parts and labor warranty with toll-free support, upgradable to a 3-year Acer Advantage service plan
Here is our video review of the Acer Aspire TimlineX 5820T.
Advertisement