The Acer Aspire TimelineX 5820T-5951 is a notebook computer with a design that was meant to be extreme as in extreme performance, extreme battery life, extreme connectivity and extremely thin design" as Acer advertises. The plan was a notebook that offers no compromises for both work and play. Sadly, both the keyboard and the speakers were less extreme than claimed.  Still, while it falls short in a couple of ways, it could be a very useful machine for the right person.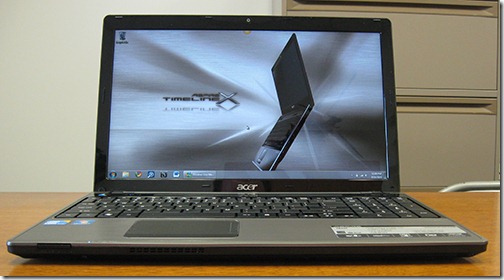 The 5820T model that we reviewed was the 5951, which is the lowered powered of the two models in this refresh of the Timeline 5810 model. This time around Acer added an X to the name of the line hoping to convince buyers that it is an extreme machine. However, with a few exceptions, it is somewhat average.
Acer Aspire TimelineX 5820T-5951 Quick Specs
The 5830T has an Intel Core i3-350M processor running at 2.26GHz. There is also 4GB of DDR3 RAM and a 320GB 5400 rpm hard drive. Acer also throws in a DVD burner combo drive and Intel's HD Graphics.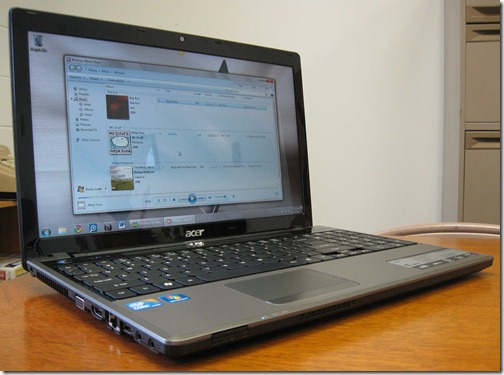 Acer Aspire TimelineX 5820T Video Review
Who is this Notebook For?
The 5820T is billed as an extreme notebook, but it is really meant for anyone who wants a jack-of-all-trades machine. In other words if you are not someone who is going to be making your living with the keyboard, editing a feature film or entering the latest 3D video game world championship, then this one might be for you. It is a decent system for the average user who needs to do just a little bit of everything.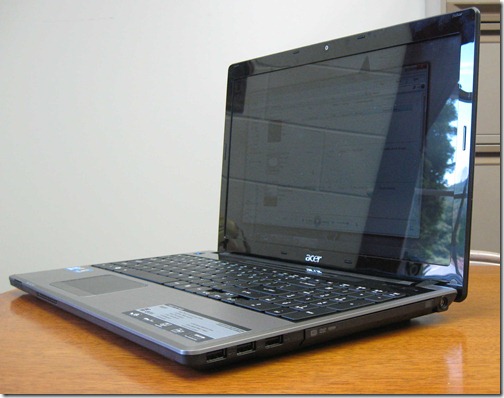 Build and Design
The body of the computer is a brushed metal texture that is sturdy and feels like it will hold up to average use. The hinges in the lid are stiff and will hold it screen open at any angle. The chassis doesn't have any bend in it, so it should hold up for most users so long as they are taking normal care of their notebook. One thing users will notice is how thin the notebook is. It is only about an inch think at the thinnest spot and slightly more toward the back.

Screen
The screen is sufficiently bright and looks good. It is a glossy finish so direct sunlight can be a challenge, but it does pump out enough light to be viewable. The viewing angle of the screen is very good. That is one area that is extreme. I could easily make out what was on-screen from the sides. The wide-screen aspect ratio of the 1366×768 resolution display is good for viewing full-screen video and for docking two program windows at each end for viewing at the same time. I often have my word processor open along with other software that I use for my work. I could keep two open all the time easily. Text was clear enough to read and graphics and video are not washed out.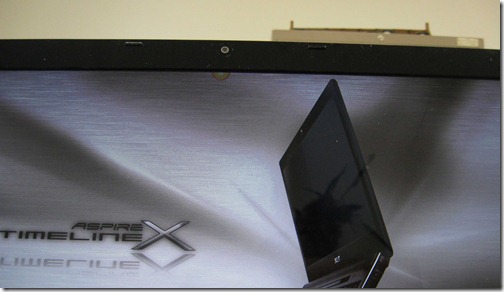 Touchpad and Keyboard
The quality of a keyboard is of extreme importance to me, as a writer. Sadly, the 5820T keyboard is very sub par. It feels mushy and while the keys are spaced well, some of your extra keys are crammed in so that the dedicated number pad will fit.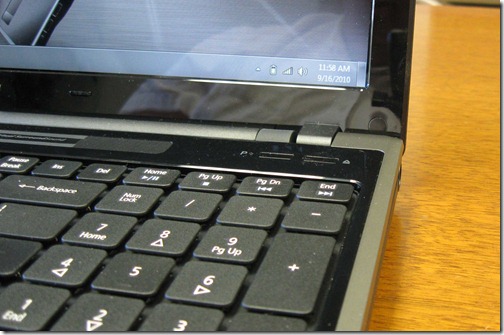 Also, I had to return the first model because the F6 key didn't work. That is not a major concern, since I am quite sure it was just a manufacturing anomaly, but the replacement unit also had a minor problem as well. In this case, the left back corner of the keyboard was not totally fastened in place and I had to push it down until it clicked into place. It seemed like someone had taken the keyboard off the computer and didn't fully reinstall it properly.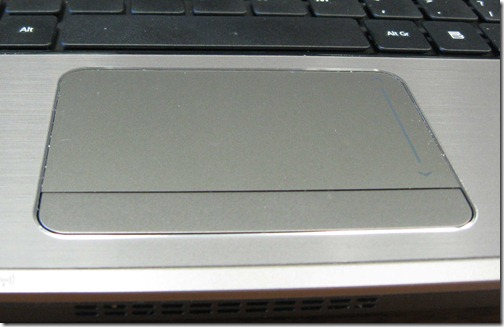 The touchpad was actually good enough that I chose not to use my wireless USB mouse that much, and that is saying something. The touchpad is large enough for gestures and normal mousing. The single button, while not my favorite choice since I prefer two dedicated buttons, was not a problem. And the only complaint I have is that some notebooks have the ability to quickly disable the touchpad with a special tap region or a dedicated button. The 5820T doesn't. As a result, when I was typing, I often accidentally tapped the touchpad with my palms for some strange results. The sensitivity can be changed to fix this, but I like to have a sensitive touchpad when I use it and turn it off when I have my external mouse connected.
Processor and Performance
The Intel Core i3 processor should be sufficient for most duties, unless of course a user plans to do some extreme number crunching or video/photo rendering and game playing. The machine was fast to respond to most clicks and felt like a powerful enough system for my average lifestyle. That said, it does take a long time to boot up without that much software installed. After I put the programs I use on it, it booted in just under two minutes. That feels painfully slow to me. However, the long battery life means that most the time just putting it to sleep, not even into hibernation, will solve this problem.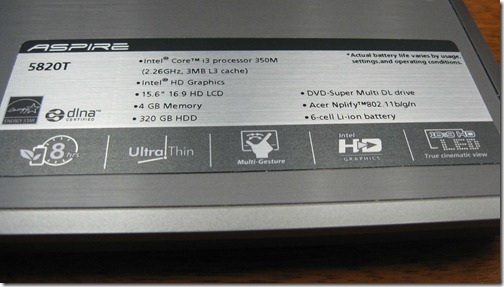 Audio
This was one area where the TimelineX 5820T really falls down. The speakers on the computer sound fine in a very quiet room, but with much background noise at all I had to plug-in my headphones just to hear the words people were saying in the videos I watched. The speakers are sadly underpowered and way too soft. However, it does have a connection for headphones, with SPDIF support if you need it, and a mic connection.
Heat and Noise
One of the real benefits of a Core i3 processor is efficiency without getting too hot. In fact the 5820T ran cool most of the time. I never felt a lot of heat and the fans only are noticeable in extreme circumstances. So it is a quiet system that will be fine as a laptop in the literal sense of the term.
Battery
The battery life on the machine is also one of its strengths. While I never got the 8 hours it promised, in my personal use test, it lasted over five hours. I use a notebook with the screen set to about 75% brightness and few power saving features turned on. I also usually have a wireless USB mouse receiver plugged into the system. With the screen set at about 50% and power savings set to full and no USB devices plugged in, I got over 6 hours of battery life, and that included about an hour on sleep mode while the computer sat in my backpack. This is one place where the word extreme is more appropriate.
Connectivity


The computer has all the basics network options, including Bluetooth, Wi-Fi and Gigabit Ethernet. That last one is more common, but Acer gets points for including it since some notebook manufacturers cut corners with just 10/100 LAN ports. The machine has a VGA port and HDMI for external video and presentations. The headphone jack will double as a digital audio port as well. There are plenty USB ports with one on the left and three on the right. Also on the right is the optical drive (DVD burner combo drive). One unique thing about the optical drive is that there is no push button on the drive to eject it. Before looking at the manual I struggled to figure out how to eject the drive. But at the upper right corner above the keyboard there are two buttons. One is a program launcher and the other is to eject the optical drive. My first reaction was, That's dumb!", but as I used it came to appreciate it. I find myself hunting for the button and on both of my personal laptops the eject button is slightly recessed making it hard to push. This takes away the hunting and is easy to push.


Software
Windows 7 Home Premium 64-bit edition comes preloaded along with the usual 60-day trial off Microsoft Office and even the pitiful Works. Along with that you get some other bloatware, like McAfee and Norton security programs, NTI Media Backup, and of course Acer's suite of tools for the web cam, power management, recovery, and arcade. Most of this is of limited usefulness. But one little application I did like was the program Launch Manager that is tied to the hardware button in the upper right above the keyboard. It can be customized to launch any application you have loaded. I have become accustomed to hitting the Window key and typing the first few letters of applications I want to launch. They show up on top of the Start Menu. But Acer customers who do not have this habit will find the Launch Manager a useful tool.
Value
The Acer Aspire TimelineX5820T-5951 can be found for as low as $687 in our Notebooks.com Laptop Finder. Amazon has it for $719. Normally Acer is known for being a low price option, but looking at other notebooks with similar specs, that average $725 price is a little on the high side. For that reason I would call this one slightly over priced.

Conclusion
The Acer Aspire TimelineX 5820T-5951 doesn't really have any one spec that makes it stand out in a very crowded class of thin wide-screen do-it-all notebooks. It does have above average battery life and a very good screen. The touchpad is decent and for a Core i3 system it is someone powerful while still running cool and quiet. The options for viewing multimedia content like DVDs or streaming video are pretty good. But the weak speakers and sub par keyboard are disappointments. If you don't plan to do a lot of typing and like to wear headphones for audio, this is a great option even if it is a little expensive. Otherwise there are better choices out there for the money.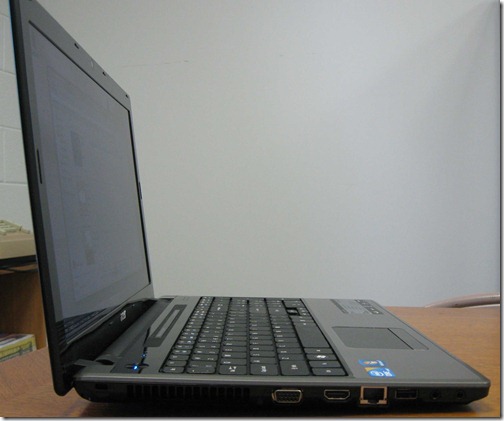 Pros:
Good screen with wide viewing angle
Long battery life
Decent multimedia viewing machine
Large touch pad
Thin
Dedicated number pad
Launch Manager button and placement of optical drive eject button
Quiet and cool
Cons:
Poor keyboard
Speakers too soft
Too expensive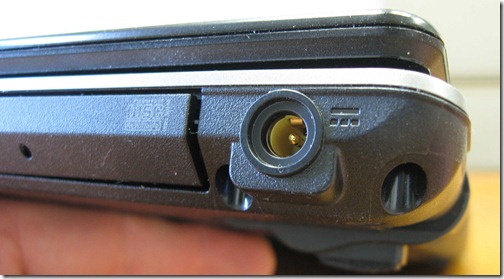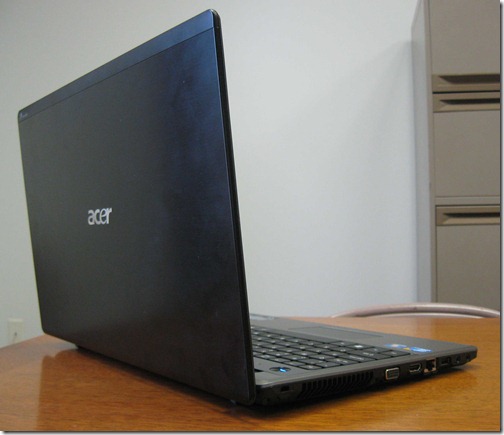 Acer Aspire TimelineX 5820T Detailed Specs:
Brand
Acer
Model
Aspire TimelineX 5820T
Operating system
Windows 7 Home Premium 64 Bit
Processor / Graphics
Intel Core i3-350M 2.26GHz, Also available with Intel Core i5-450M, Core i3-380M

Mobile Intel HM55 Express chipset

Integrated Intel HD Graphics  (128 dedicated memory)

Memory
4 GB DDR3 RAM 1066 MHz (Max 8GB)
Hard drive
SATA 320 GB HDD 5400 rpm, Up to 500GB available
Display / Resolution
15.6-inch HD 1366×768 high brightness (200-nit) TFT display with 16:9 aspect ratio, LED backlight, mercury free
Removable Storage
DVD Super Multi Double Layer drive
Wireless Support
Wireless-B+G+N with Acer InviLink Nplify network connection, SuperUp technology for enhanced antenna efficiency
Communications
Bluetooth 2.1, Acer Crystal Eye WebCam with VGA resolution, Gigabit Ethernet
Input Devices
Full-size keyboard with dedicated number pad, Multi-gesture touchpad, Program launcher button
Power
4600mAh lithium ion 6-cell battery, up to 8 hours
Memory card reader
5-in-1 card reader, SD, MMC, MS, MS Pro, xD
Accessible memory slots
2 slots
Maximum Memory Expansion
Up to 8 GB
Ports
Headphone/speaker/line-out jack, Microphone-in jack, SPDIF support
Additional Ports
RJ-45 LAN, VGA, HDMI with HDCP support, 4 USB 2.0
Audio
Built in speakers
Weight
5.3 lbs.
Dimension
14.9″ x 9.8″ x .9-1.2″
PC Card Slot
None
Webcam
Built in w/ mic
Warranty
1-Yr Parts and Labor
Advertisement