The Toshiba L655D-S5164RD is a new Satellite notebook which is available from many retailers for around $680, which is priced about $200 more than budget notebooks that clock in around $500, but for the premium you gain a much faster quad core processor.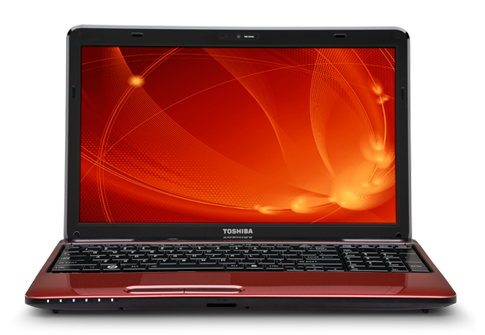 The Toshiba L655D-S5164RD comes with a 1.8GHz AMD Athlon II Quad Core mobile processor, 4GB RAM a 640GB hard drive and a 15.6″ display with 1366×768 resolution. The Satellite L655D-S5614RD also has a webcam, microphone and a DVD burner rounding out the notebook.
So far the L655D, with a quad core processor has handled all the normal tasks we've thrown at it like web surfing, working in Office documents (including large linked spreadsheets) and viewing video. We'lll be putting the processor through the paces over the coming weeks to see how it handles video processing and even gaming.
Toshiba Satellite L655D-S5164RD Video Overview and First Impressions:
Initial thoughts on build quality are pretty good, but we did notice that the lid doesn't stay completely closed on its own when you are carrying it near the hinge. This is a common issue we see on notebooks in this price range, and can be addressed by changing how you hold your notebook, but still worth mentioning. The overall build quality felt pretty good after a few days of use.
The mouse is the highlight of our first impressions, stealing the show in terms of performance. The mousepad is adequately sized and has a nice feel to it, almost invisible like we saw on several Samsung notebooks, but the real reason we like it is that it works. Two finger scrolling is smooth and gestures work without the hesitation we commonly see on Windows notebooks. In short, this is a mousepad we would expect to see on a higher priced notebook, and wish we encountered more often.
We'll be putting the [amazon_link id="B004INMFTO" target="_blank" ]Toshiba Satellite L655D-S5164RD[/amazon_link] through its paces over the next few weeks and posting our full review of the latest addition to the Satellite family. If you want us to test a certain application or activity, leave us a note in the comments below.
Advertisement