The performance of an application in Windows Mobile can vary greatly depending how much RAM is available for the program to use. If an application has the desired memory then it will run smoothly, if not it will be sluggish. If you are running low on free memory, Windows Mobile may even refuse to open a new program. That's where cleanRAM comes in. This free program can be used to easily free up RAM and make your Windows Mobile phone run smoother without the need to reboot.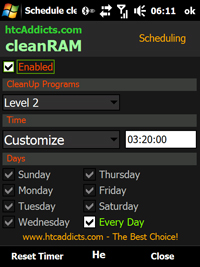 How to install cleanRAM:
Head over to htcaddicts.com and download cleanRAM.zip.
Extract the Zip file to a temporary folder on your pc.
Copy the CAB file (from the zip file) to your device.
Open the CAB from your device (use file explorer).
cleanRAM will be installed into /Program files/htcAddicts folder.
Checkout the latest version of cleanRAM demonstrated in the video below.
Notable features of cleanRAM:
There are 3 levels of cleaning + personally customized processes list.
Customized Processes List define the processes you wish to clean.
Exceptions list choose applications or processes to always ignore.
Schedule set up cleanRAM to clean at a specific time.
Multi-Language support.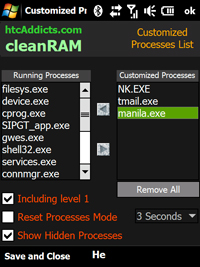 Source and photo-credit: htcaddicts.com
Advertisement