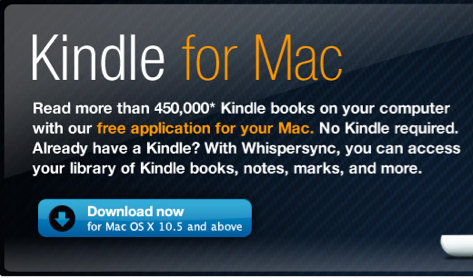 Amazon just released Kindle for Mac, an application that allows Amazon customers to read more than 450,000 books on their MacBooks. Anyone with a U.S. Amazon.com account can sample and buy books with kindle for Mac, even if they don't own an Amazon Kindle.  This application is technically in beta despite being released to the general public.
Kindle for Mac is  a free application and is clearly geared for those who already own a Kindle. Kindle for Mac automatically syncs with users' other devices so they can pick up on the last page they were reading before switching devices. Books purchased on a Kindle or other devices are available to read at no additional charge.
When launching Kindle for Mac, users are greeted with a catalog of purchased books and downloaded samples. Browsing for books to purchase is done through your Mac's web browser, not in the application itself. Amazon's online book catalog is fairly easy to navigate and you shouldn't have too much trouble finding something interesting to read considering the virtual library has far more titles than your neighborhood bookstore.
Clicking on a title in the Kindle for Mac catalog opens the virtual book, beneath a menu bar. Here, the user can bookmark a page, jump to a page or adjust the size of the font and the number of words per line. I found it most comfortable to read the included sample book D-Day with the words per line slider set to mid-point. It was very difficult for me to read with this setting maxed out, which stretched the text out nearly the entire width of my MacBook Pro's 15″ display.
There are three ways for MacBook users to turn pages. You can simply left-click on the arrows to the left and right of the pages, swipe side-to-side with two fingers on the trackpad, or swipe up and down.  Unfortunately, Kindle for Mac doesn't recognize other gestures, such as pinch and zoom to decrease and increase font size.
Reading Kindle Books on a bright MacBook Pro display isn't as comfortable as using an actual Kindle. This is mostly due to the fact that staring at a bright white display and focusing on text for a long time can strain your eyes. Reading on a Kindle feels a lot more like reading a real book and is probably better for your eyes.
Doing more than simply reading a Kindle Book on your Mac can be a challenge. Users can also view notes and highlights that you jotted down on book pages using their Kindles. Unfortunately, you can't create new notes or highlight text using Kindle for Mac. There's no search feature, which means you'll have to wade through page after page to find what you're looking for, just like with a paperback.
Another feature missing from Kindle for Mac is text to speech. On a Kindle, you can have your books read to you (unless a publisher's specifically disabled that feature their books), but this isn't possible on a MacBook, even though OSX has a perfectly capable text-to-speech feature. The problem is that Amazon's DRM prevents users form selecting text, which is the first step in getting your MacBook to read aloud. While I can certainly appreciate the fact that Amazon and its publishers don't want people to pirate their books, this can make it more tedious for students to pull quotes into reports or take notes.
As I mentioned before, Kindle for Mac is free, but the best thing about the Kindle store is that there are countless free books in just about every genre. For a full list of free Kindle books, all you have to do is visit this Amazon.com page. If you want to narrow things down you can select your favorite genre from the left side of the Kindle Store page and then select 'Price: Lowest to Highest' from the drop menu in the top-right of the page.
Having Kindle for Mac is going to be a plus for Kindle owners that want to view their Kindle Books on a larger screen. It'll also provide free, legal access to thousands of books for those without a Kindle. However, there's definitely room for improvement and I hope Amazon provides a more functional version of Kindle for Mac in the near future.
Advertisement