Looking for something to give to a smartphone owner this holiday season? Well, according to a gadget survey by Retrevo.com you can stop looking and focus on an accessory for their iPhone, Android or BlackBerry Device. The survey of over 1,000 users found that when given a choice most between accessories, clothing, a book or perfume gadget accessories took top honors for iPhone and Android owners and a close second for BlackBerry owners.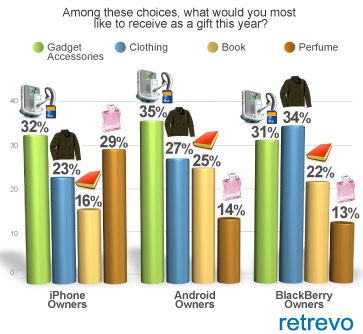 Given all that our smart phones can do — video, audio, recording, calling, photography and more — it's no surprise that we love accessories for our smart phones. What are the most popular iPhone, Android and BlackBerry accessories as voted on by Retrevo respondents? It turns out cases, headphones and camera accessories are among the top. You can see the breakdown of top smartphone accessories by device type below.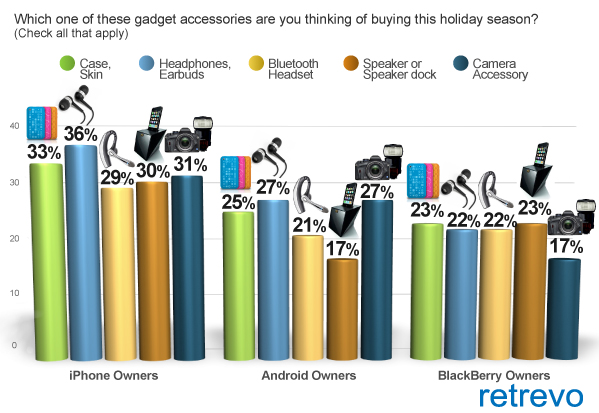 If you're looking for the hottest smart phone accessories, check out our accessory reviews for cases, audio items and more. You can also look at Retrevo's cell phone accessory store which makes it simple to find accessories that match your smartphone by category. The store has an impressive collection of accessories and allows you to sort by price, color, material, features, phone type and more in an amazingly clean storefront.
ttp://www.retrevo.com/content/blog/2010/11/dont-buy-smartphone-owner-sweater-year
Advertisement