At CES today Toshiba added a new member to their Dynadock docking station family 'Dynadock V'. Dynadock V is an affordable Universal Laptop Docking station from Toshiba. This enhanced laptop docking station from Toshiba provides a lot of improvement over its predecessor, the dynadock U; such as the Dynadock V is half of the size of the dynadock U, One third thinner and offers 1080P support.
Dynadock V expands you're your laptop into a dynamic PC system. With this multi-tasking docking station you can connect all your peripherals and other related accessories with one USB plugged into your laptop. Dyandock V also comes with Toshiba Dyandock utility software which takes care about all video and audio drivers for Windows XP, Windows Vista and Windows 7.
Key Features:
Keep connected in home easily
Built in HD Video card allows to connect an extra VGA or DVI monitor
Support up to 1920 x 1080 resolution.
Enable user to connect their laptop to HD monitor / TV
Can connect to external monitor, keyboard & mouse, printer, router with only one USB used in your Notebook.
Sleep and charge USB port can supplies power to cell phone, MP3 player even though your Laptop power is off.
Provide 4 USB 2.0 Ports
Can add or remove most devices without rebooting the PC.
Headphone and microphone jack for VOIP or voice instant messaging.
10/100 LAN, DVI-I USB In and DC In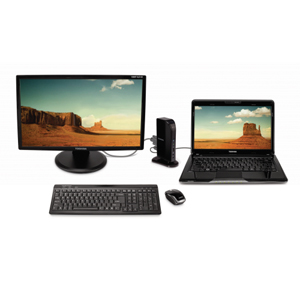 Specification:
Ports & indicators
Side Panel: Cable lock slot
Dimension 3" D x 1.34" W x 6.13 H
Weight 9.9 oz
One-year limited Standard warranty
Power LED, USB Activity LED
The dynadock V docking station will be available from February at price $119.99. To see more details and video about this product please visit ToshibaDirect.com.
Advertisement