Earth Day is a day of celebrating the earth and taking steps to ensure that we can enjoy it for the long haul. On April 22nd each year companies, organizations and individuals take steps to be better stewards of the environment. This could be in the form of using less power, getting greener gadgets or just vowing to recycle used gadgets.
We've rounded up some of our favorite green gadgets and have also found some of the best ways you can go green. While we are going to show you some new green gadgets, you don't need to toss out last year's gadgets just to go green. If you do, we hope you'll use one of these apps to find a gadget recycler near you.
Green Notebooks
So far, notebooks aren't made out of recycled paper frames, but biodegradable cases could be on the way. For now, you'll need to settle for notebooks like the Sony VAIO W Eco and Energy Star notebooks.
Energy Star notebooks can be found by looking for the Energy Star logo on the product packaging and even on the notebook's palmrest in some cases. While it may seem like an easy achievement, Energy Star ratings do ensure that the notebook meets requirements for annual energy consumption and use idle modes to save energy. According to energystar.gov,
"If all computers sold in the US meet ENERGY STAR requirements, the savings in energy costs will grow to more than $1.5 billion each year, reducing greenhouse gas emissions equivalent to those from 2 million vehicles."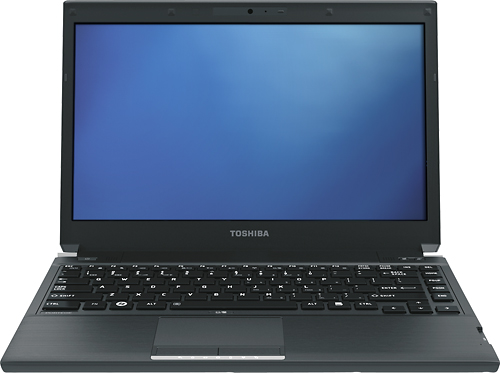 We found several Energy Star notebooks at Best Buy, shown below, and you can also search for Energy Star notebooks while browsing BestBuy.com. Other websites and manufactures will list the Energy Star rating in the specs of the notebook.
These Energy Star notebooks and laptops aren't a gimmick green product either. They are quality notebooks that are also bringing an energy star rating. If you want to look for an Energy Star notebook, or check on your model, you can search this list of Energy Star Notebooks and Laptops (Excel).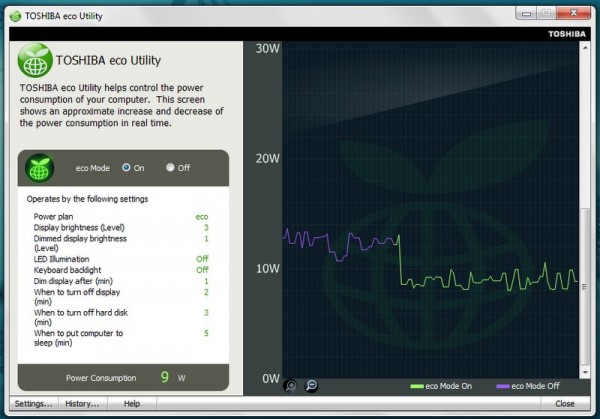 When you go looking for a notebook, another option is to find one with an Eco mode. Toshiba has been including an Eco mode of power management on most of its notebooks including the new Toshiba Satellite E305-S1990 which includes power saving options and will help you visualize your energy usage.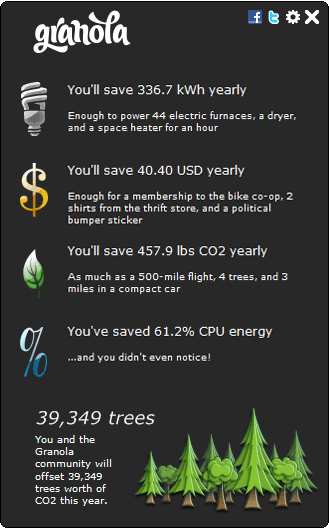 If you don't have an Eco mode on your laptop or desktop, you can use the free Granola tool to automatically make energy saving changes. Not only is this a green move, it can extend you battery life as much as an hour in some cases.
Green Gadgets
Looking for green gadgets can be a difficult process because of a significant amount of greenwashing, that is fake greening up of a product. We've gone looking for gadgets that have reduced the materials they use, packaging used or make use of solar power to help you be a bit greener as you celebrate Earth Day. As one of the comp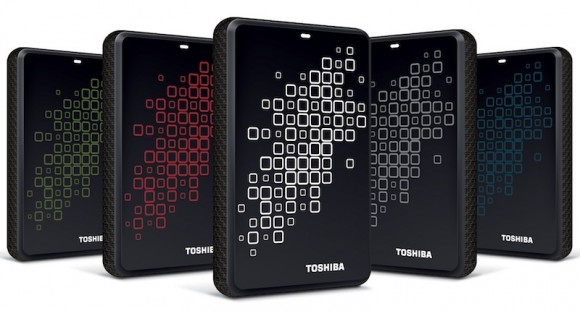 Toshiba is taking steps to use fewer materials as they reduce the size of their portable Canvio 3.0 hard drives which use less material thanks to a 25% reduction in size and a use packaging made from 100% of recycled material.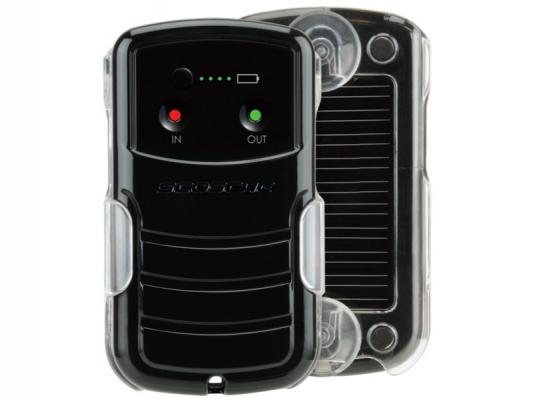 Scosche also delivers on the green front with items like the Scosche SOLBAT II USB charger which provides battery backup and a solar charger for most USP powered devices for just $29.99. If you want to talk a lot and go green, check out the Scosche SolVUE solar powered speakerphone which mounts in your car to give you a bluetooth hands free speakerphone that gets power form the sun.
Not to be left out, IOGear also has a solar powered Bluetooth car kit that adds a better speakerphone to your cell phone, and gets power from the Sun. The IOGear Solar Bluetooth Hands free car kit is $49.99. Also, if you like trees, check out IOGear's tree planting program.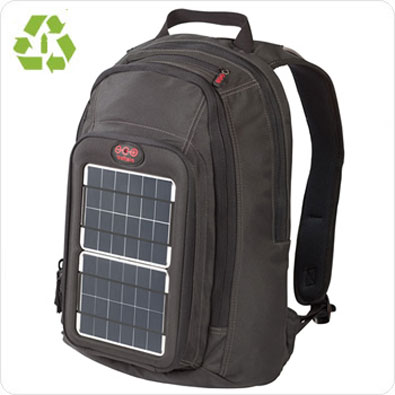 Voltaic Systems makes a solar powered backpack that reader Andy swears by. He once went a whole month only charging his phone on the Voltaic backpack, which he adds, was a challenge since he lives in an often overcast area of Michigan, and had to leave the bag in the sun. These bags pack a solar charger , but if you want your own solar charger Voltaic Systems also sells solar panels you can add to your own backpack or even to your bike.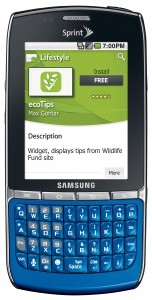 If you want a green phone, the Samsung Replenish, which is available on Sprint, is an Android smartphone with a touch of green. This smartphone doesn't ditch specs to be green. The casing is made of 80% recyclable materials and there will be an optional solar powered battery door for sale.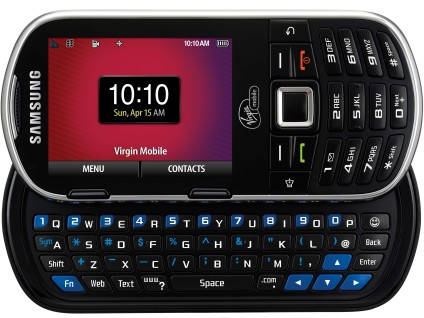 Additionally, Samsung has another green phone, the Samsung Restore, which will be landing on Virgin Mobile. This isn't a smartphone, but it does have navigation and web access. It is made of 83% recycled material and uses less plastic in the packaging.
Go Green Tips
In addition to buying items, check out these tips to go green by changing settings on your game consoles and stopping vampire power from wasting electricity from Retrevo.com which is also asking users to step away from Facebook for the day and to, "not just "Like"  Earth, but really "Like  Earth."
Go Green with Gaming: Set your gaming consoles to auto-power down or to turn of WiFi while not in use to stop wasting energy. You can se a step by step guide for numerous consoles at Retrevo.
Vanquish Vampire Power Suckers: When you are finished with your computer and other gadgets, you should unplug them to avoid wasting electricity. If you don't want to unplug the power adapters all the time, Retrevo recommends a power strip that does the work for you such as the Embertec and the TrickleStar
Do you have any favorite green products or tips and tricks for being a bit more green? Let us know in the comments below.
Advertisement