In short if you find yourself using your netbook or notebook in one of the positions with red glowing dots below, you better stop or prepare yourself for pain.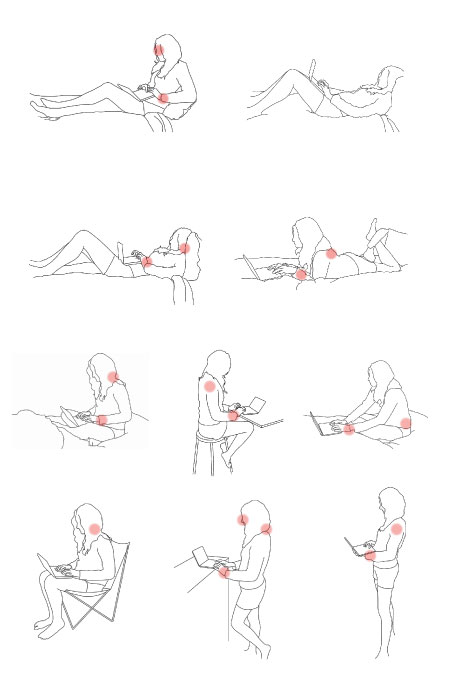 One of the big benefits of small notebooks and netbooks is the variety of places and positions you can use them in. Core77 a design magazine published a case study of netbook design at the Savannah College of Art & Design which looked at how tweens, those between the age of 11 and 14, use netbooks. In addition to usability and other issues that were observed the student researchers identified 10 positions commonly used when viewing a netbook; and 9 of them are bad for your joints and health.
Apparently the only approved way to use your netbook is laying down, which may work out well for tweens, but not so well  for office workers.
I can attest first hand to the danger of using your netbook or notebook in one of these positions. When I first purchased my netbook the bottom left image, sitting down hunched over, was my common writing style — and not only did I pay in pain I also paid in chiropractor bills!
After spending a third of my netbook's cost on adjustments to correct back pain caused by poor posture I picked up a used monitor and mounted it to the wall of our dining room (we live in a small apartment) which now doubles as my office.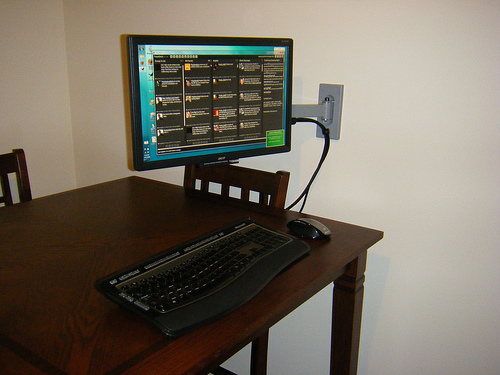 It's still not the most ergonomic office but it makes for a much healthier working situation and I get to say that I have Twitter on my dining room wall; how many of you can say that!
via LifeHacker
Advertisement