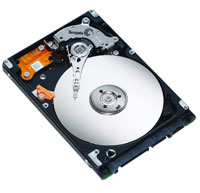 Thereâ€â"¢s been lots of news about highly sensitive notebooks being lost or stolen in the past couple of years, putting everything from your identity to government secrets at risk. Seagateâ€â"¢s fighting back with the Momentus 5400 FDE.2 for notebooks, the first hard drive with full disc encryption.
The Momentus 5400 FDE.2 prevents unauthorized access to all notebook PC data in case the system or disk drive is lost, stolen, retired or resold. The 2.5-inch, 5,400-RPM drive's hardware-based full disc encryption delivers significantly stronger protection than traditional encryption approaches by securely performing all cryptographic operations and access control within the drive. For users, only a password is needed to self-authenticate for full drive access. Information on the DriveTrust drive can be instantly erased.
The only downside to the drive is if you lose your password, you lose your data. Donâ€â"¢t bother calling Seagate and crying for a password reset or some way around the encryption. Secure means secure.
Seagate will begin selling the notebook drive early 2007.
Advertisement