Today was a big day for hard drive announcements with faster hard drives coming to notebooks from Toshiba, the announcement of a standardized Mini SATA format and a cheap (and fast) hard drive upgrade for Asus netbooks coming out.
The big news today was that Toshiba announced a new 500 GB 7200 RPM hard drive for notebooks which boasts 23% faster data transfer rates and is 28% more energy efficient so your battery won't suffer from the speed bump. The MGXXXXGSY series drives also come in 320GB, 250GB and 160GB versions and are slated to be available in October. No pricing details were available.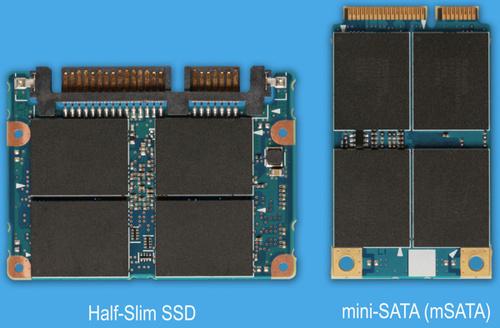 Another "little" piece of news is going to be much appreciated by netbook owners and lovers everywhere. Engadget reports that SATA-IO, the group who defines hard drive standards, announced a new Mini-SATA standard dubbed mSATA which should make it easier to upgrade your netbook hard drives. Toshiba also announced its first mSATA drives in 30GB and 64GB sizes which will bring power efficiencies to netbooks. The Toshiba mSATA drives will begin production in October and it is expected that major manufacturers will adopt the new standard quickly; especially since Dell, HP, Lenovo and Samsung are a part of the SATA-IO group.
The third announcement today comes from Active Media Products which is rolling out new faster SSD drives for the Asus S101, 900, 900A and 901 EeePC netbooks. The drive comes in 16, 32 and 64 GB sizes and shows 3X faster read and 4X faster write than the stock drive. Prices start at $69 for 16 GB and top out at $159 for the 64GB drive and they are available now.
It's great to see speed and energy efficiency coming to notebooks and netbooks in so many manners. In both of my recent computer purchases (HP tx2000 and the HP Mini 1000) the lowest ranking item on the Windows Experience Index which got low marks for a slow disk transfer data rate. Hopefully the coming crop of notebooks coupled with these new drives will address this shortcoming.
Advertisement