This summer we showed you a hybrid BluRay drive from Hitachi and LG that also includes a 32GB solid state drive meant to run your operating system and offer better performance while leaving the traditional hard drive area open for a high-capacity drive. Now, Network World reports that Hitachi and LG have made the SSD smaller and expect to bring it to market by May 2011.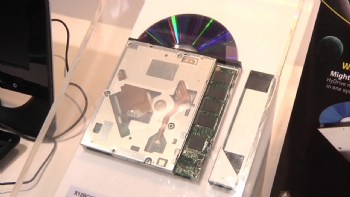 Not only did they announce this, but they showed off how it would work, putting the BluRay/SSD drive into a HP Pavilion dv6z notebook, by replacing the standard drive. While it may not be as easy as unscrewing a drive and inserting a new one it is great to see more storage options coming without increasing the footprint or size of your laptop.
The benefits of switching to an SSD include faster bootup and performance gains in many cases, but the smaller size of affordable SSD drives makes switching to all SSD a hard task for some users. This type of BluRay SSD combo drive would allow for users to keep their large media and data files on a cheaper and larger hard drive.
AS a user who has been trying to slim down his fiels in order to move to an 80GB SSD, I'm looking forward to seeign this technology in our laptops.
Hitachi LG did not announce a cost for the HyDrive, but did announce that it would be available in May 2011 in sizes ranging from 8GB to 256GB.
Advertisement