Just looking at the pictures of these new SSD's that Toshiba is announcing makes one think of the innovative new drives in Apple's MacBook Air that was released recently.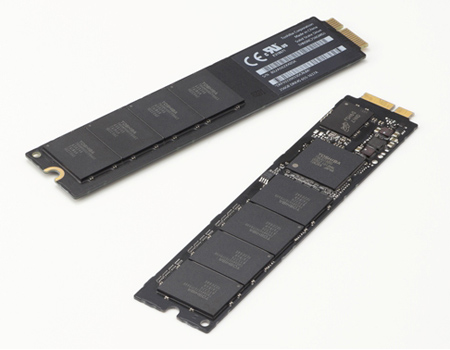 Toshiba calls them "blade-type SSDs" and they really look like a memory stick with a connector on one end just as Apple's drives do. The drives come in three sizes right now – 64GB, 128GB and 256GB, just like Apple's drives do. Compare them to the pictures in iFixit's tear down of the MacBook Air.
Toshiba says they are …
"… ideally suited for integration into space-sensitive products, including mini-mobile and netbook PCs, and give product developers greater freedom and flexibility in product design."
So a notebook or netbook compute could benefit from the great performance these kinds of drives are giving the MacBook Air. The drive is small – only 2.2mm think meaning it is almost half the thickness of a regular drive.
The drives are available now to OEMs. Some of the technical details are below:
SATA 2.6 Interface
3.3 volts
220MBs read time; 180MB/s write time
24mm wide x 2.2 mm high x 108.9 mm long for 64/128GB model; 256GB is 3.7mm high
9.8g for 64/128GB; 13.2 for 256GB
Advertisement