Sick of the small mousepad on your new netbook? Wish you could sit back and watch Hulu or browse the web from the couch with your computer connected to an HDTV? Do you have an Android powered phone? If you answered yes to these questions then Gmote is exactly what you need.
Gmote is a very handy app available on the Android Marketplace which offers several cool features including the ability to use your phone as a wireless trackpad, remote control your computer and stream music to your phone.
Once you've set up the small Gmote server on your computer you can connect over WiFi, or even on cellular connection, and turn your Android phone into a wireless mousepad. On top of almost tripling the trackpad space on my netbook, Gmote includes a button to pull up your onscreen keyboard for easy text entry. Standard trackpad functions including left click, right click and scrolling are also including making it easy to navigate your entire computer from your phone.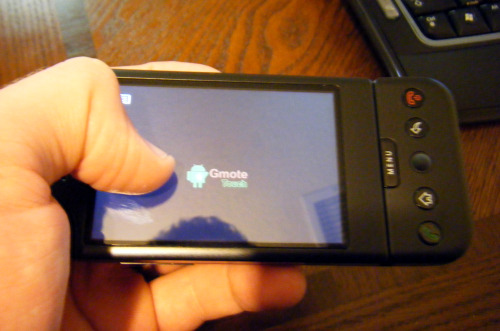 On top of enjoying the extra trackpad space that Gmote provides it also makes a handy remote control for PowerPoint presentations. Gmote is also useful for pulling up Hulu on an out of reach notebookto enjoy The Daily Show without getting up.
Gmote also features a remote control application which lets you play audio and video files in VLC or Windows Media Player on your PC. You can select files to play by browsing your computer's hard drive on your phone. Additionally you can stream music to your Android phone giving you access to your entire music catalog.

Gmote is a free application, though there is a donation version, and is available on the Android Marketplace. It works with Windows and Linux computers and performed great in Windows 7 in my testing. If you have trouble connecting to the server or want to learn more about Gmote you can ask for support at the developer's website. If you have the Barcode Scanner App installed on your Android you can scan the image to the right and it will prompt you to download Gmote.
Advertisement