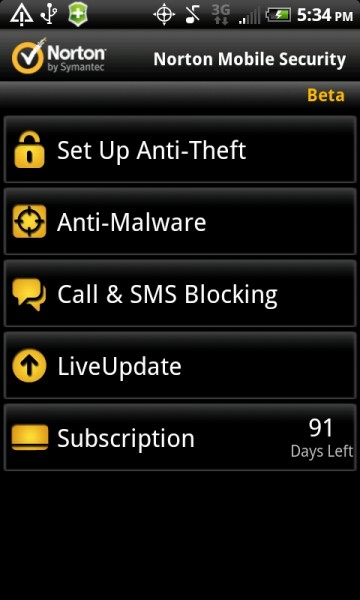 Today, Symantec announces the availability of Norton Mobile Security 1.5 for Android, which is available as a limited-time free beta trial on Android Market. The security suite, which helps users recover their Android smartphone or tablet when lost, control call and SMS block lists, and comes with anti-malware technology, is part of Symantec's Norton Everywhere initiative. The good news here is rather than play up to user's fears about the low threat of viruses on a device at this time, Norton Mobile Security actually offers a lot of useful features that will give Android owners a pro-active way to monitor and control the security of their smartphones.
Norton Mobile Security 1.5 offers users some enterprise-grade security, including the ability to remote wipe or lock the handset if it's misplaced or lost. With a simple text message to the phone to activate geo-location, Norton Mobile Security can send back its location coordinates to the user in the event of loss or theft. According to Symantec, 36% of cell phone owners have experienced loss or theft of their device, and this is a very real risk.
Additionally, the security suite also allows phone owners some protection and detection against websites with anti-malware protection, warning users of bad sites, such as phishing sites, like on the desktop. Moreover, users can set up block lists for unsolicited or unwanted phone calls and SMS text messages.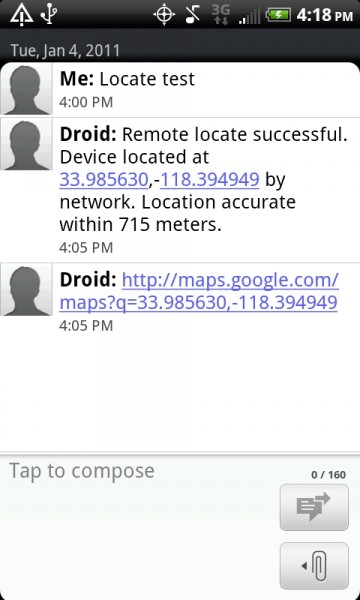 Smartphone and tablet users of Google's Android platform can head over to Android Market to download Norton Mobile Security 1.5.
In my conference call with Symantec, the company had hinted that a future version is forthcoming, that would provide additional features and protection. Although the company was not able to reveal what features will be coming, an aspect that Norton should look into is detecting bad apps–in addition to phishing websites, a future version of Mobile Security suite could also detect phishing apps to truly be useful.
The company also says that it expects Norton Mobile Security to be available through select partner as a one-year subscription. For now, though, a free beta trial is available through Android Market. Here are some of the partners that have signed on with Norton:
·         Best Buy Canada Ltd. – Canada's fastest-growing specialty retailer and e-tailer of consumer electronics plans to offer Norton Mobile Security online, in stores and through their Geek Squad services.
·         Dixons Retail plc – Europe's leading specialist electrical retailing and services Group, with retail and online brands including Currys, PC World, Elkjop, Kotsovolos, Electro Word, Pixmania and others spanning 28 European countries, plans to offer Norton Mobile Security along with Android phones, tablets and tablet phones.
·         Kingston Digital, Inc. – The Flash memory affiliate of Kingston Technology Co., Inc., the independent world leader in memory products, has selected Norton as the security provider for their USB Flash drives containing Kingston's urDrive, a free pre-loaded application for organizing, discovering and acquiring content such as games and music. urDrive transforms 'passive' USB drives used to store and share data into an 'active storage' experience.
·         UOL Inc. S.A. – Brazil's largest Internet Service and Content Provider with 2.5 million subscribers and more than 4.3 billion page views monthly is already offering Norton mobile solutions to its members.
The company is also looking into deals to pre-load Norton Mobile Security onto smartphones. The move would have to be made with phone-makers. In a hypothetical example, a device-maker such as HTC could potentially pre-load Norton Mobile Security onto its Android smartphones, providing users added value. The downside, however, is that users may not respond favorably. Like the backlash on the desktop market against bloatware and trialware, there is a concern that smartphone users may view Norton Mobile Security suite to be the same on a smartphone. As Norton Mobile Security is a subscription-based program, it will provide no value and will occupy space and computing resources running in the background of a phone after the subscription ends or the user lets the subscription lapse.  In discussing this with Norton, Symanetc says that it hopes the security software provides enough value to users that when pre-loaded by a manufacturer, users would want to use it.
Here are the top 20 cities for phone loss/theft, according to Norton:
1.      Miami – 52%
2.      New York – 49%
3.      Los Angeles – 44%
4.      Phoenix – 41%
5.      Sacramento – 41%
6.      Chicago – 40%
7.      Dallas – 39%
8.      Houston – 37%
9.      Philadelphia – 36%
10.  Tampa – 36%
11.  Cleveland – 36%
12.  Boston – 35%
13.  San Francisco – 35%
14.  Atlanta – 34%
15.  Orlando – 34%
16.  Denver – 34%
17.  Washington DC – 31%
18.  Seattle – 31%
19.  Detroit – 31%
20.  Minneapolis – 29%
Advertisement