Can't decide if you want to get a Windows tablet or even a Tablet PC versus one of those sleek new Android tablets that are on or about to hit the market? Well, with BlueStacks, hopefully, you can get a power-performing Windows tablet–with all the bells and whistles for your productivity needs–while still being able to enjoy your favorite Android games. BlueStacks hopes to meld the world of play and productivity together, combining Android games and titles to your Windows machine, whether it's a tablet, laptop, or desktop.
Essentially, BlueStacks allows users to virtualize Android and run Android titles in a Windows system. There is no dual-booting so you can run Windows and Android side by side. The neat thing, according to SlashGear, is that in the virtualized mode, Android 2.2 and the apps would use Windows drivers to handle things like printing or audio calls via Skype on Android.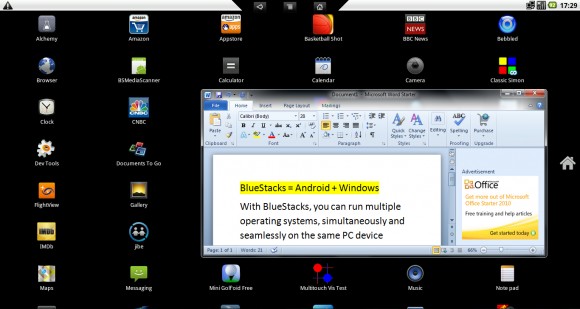 The downside, though, may be how well Android works without a touchscreen for those who are hoping to run this on a non-touchscreen desktop or laptop Windows machine. When I was using the Motorola Atrix with the Laptop Dock, I find that some actions were awkward without a touchscreen in laptop mode, such as unlocking the smartphone, which forced me to hold down the mouse and drag the slider bar across. Other actions on Android that require the same gesture include accessing the top notification bars, and select games, such as Fruit Ninja, which requires lots of swiping.
Advertisement