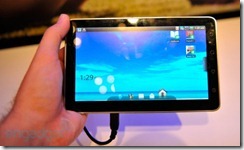 Acer is possibly going to delay its launch of an Android based Tablet until the first quarter of 2011 so that it can take advantage of the Google Androi2 3.0 OS which is designed for Tablets and supports bigger screen resolutions.
The rumor comes from Digitimes saying that the since the 3.0 version of Android won't come till the fourth quarter of this year, Acer will delay plans to launch its Tablet. They will, however, continue with plans to launch a Windows-based version by year's end. And they have already launched a smart phone based on Android called the Liquid E Ferrari. It was launched in Taiwan on August 18th.
The company also has both a 6-inch grayscale and a 7-inch color e-book reader planned. They will run a form of Linux and ship by the end of this year. Acer previously showed off a prototype Android based eReader. Below is a video from Netbook News of the device shown off at Computex 2010.
Advertisement