The LG Optimus V is a relatively new budget Android smartphone available from Virgin Mobile. Unlike the Android phones on many carries like Verizon, AT&T and Sprint, Virgin Mobile offers a plan for the LG Optimus V which starts at just $25 a month for unlimited of data and 300 minutes; all without a contract. We've been testing the LG Optimus V for the last month and found that it delivers a great Android experience for just $149.
LG Optimus V Quick Specs:
The Optimus V has a 3.2″ screen, 600Mhz processor, runs Android 2.2 and has a 3.2MP camera. The Optimus V comes with a collection of pre installed software including the Swype keyboard which allows you to swipe to type, or if you prefer you can tap as you would on a normal on screen keyboard. In short this $150 Android smartphone does pretty much everything the average user will want to do.
LG Optimus V Hands On Video:
LG Optimus V Performance:
The LG Optimus V has a very capable processor, which most users won't need to be concerned with. During our testing of the device we found that as much as we like to look for the largest numbers on the side of the box, devices like the Optimus V are very capable. We used the Optimus V to take photos, surf the web, take phone calls and use apps just like we would on any other Android phone and we didn't experience lag or any other issues that would prevent us from recommending this phone as the best value for an entry level Android phone.
LG Optimus V Build Quality:
The build quality or look and feel of a device can make or break the long term appeal. While we can't carry around the Optimus V in our pocket for 18 months and get back to you we have subjected it to normal usage over the past month and haven't had any issues with scratches on the screen or body despite not using a case or screen protector. The phone feels quite solid and despite our attempts to get the device to flex it stayed firm. In short, this is a phone I could suggest for my sister who has personally destroyed more phones than many of you have owned, without a second thought. I would probably steer users who need a rugged phone towards Motorola Defy.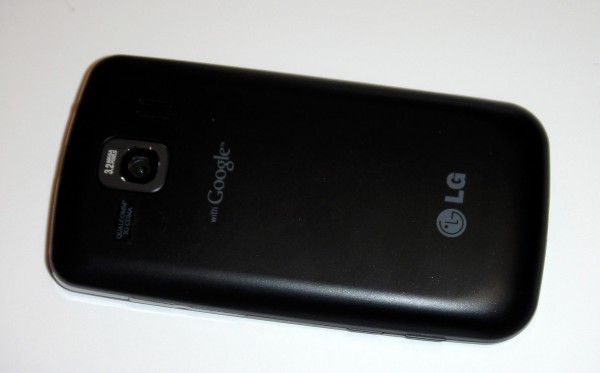 LG Optimus V Display:
The display on the Optimus V is quite clear and is large enough to handle the work and entertainment needs of many users. The viewing angles aren't real wide, but that's not a big issue when you are using the phone by yourself. The display is glossy, and in fact a little more glossy than some phones we have used, which means it will pick up reflections of lights and present a problem at times when you are outdoors. If you turn the brightness up, you can counter the outdoor viewing issues, but weren't able to make the phone automatically adjust the brightness like some phones can.
One thing worth noting is that the small screen can feel like a burden if you are responding to email after email thanks to the small size and the need to use an on screen keyboard. If you answer a few emails, with short replies, you probably won't mind, but if you send dozens of emails every day on your device it could get old.
LG Optimus V Call Quality:
Call quality will depend in part on the network you are calling from. In this case, Virgin Mobile uses Sprint's network for voice and data. If you want to get a feel for how the phone will perform, check out the coverage map an ask friends or family who use Sprint in your city.
For calling we found the that the Optimus V performed very well with great clarity on both ends of the conversation. We were able to pair the Optimus V to the Plantronics Voyager Pro UC v2 Bluetooth headset and also experienced good call quality. The phone has a built in speakerphone which performed admirably, but can distort when you crank the volume up to the highest settings.
LG Optimus V Sound:
The sound quality of the music is lacking over the built in speakers with an overall mediocre performance. That said, if you connect earbuds or external speakers you do get a better sound, though it is still a bit heavy in the middle range. In short, the audio is good enough in most settings, but you might want to hang on to your MP3 player.
LG Optimus V Gaming:
The LG Optimus V did a good job at handling various Android games we tested out including Angry Birds. We didn't experience any lag or interruption to the gameplay. This is important since the ability to play Angry Birds is high up on many shoppers lists.
LG Optimus V with Kindle:
We also wanted to see how the Optimus V handled as an ebook reader using the Kindle App for Android. As you can see in the video above, it offers a good reading experience in both day and night modes and despite only having a 3.2″ display we were able to do a decent amount of reading on the device.
LG Optimus V Camera and Camcorder Quality:
Sample Image Taken with the LG Optimus V: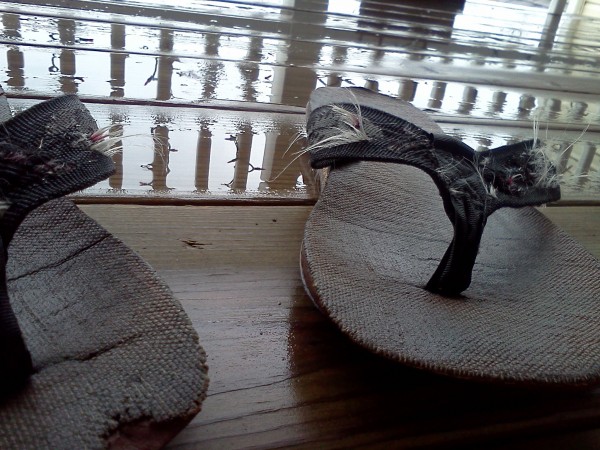 The quality of photos and videos taken with the Optimus V is OK. The still camera has no flash, but it has autofocus and does a pretty good job even in mildly lit environments. This won't replace your point and shoot for special events, but it will take decent pictures for sharing on Facebook or getting the occasional 4×6 print.
Sample Video Taken With the LG Optimus V:
The camcorder is likewise OK. It won't replace your FlipHD, but it is quick to start recording and does a good job at picking up your voice. Watch out for the wind though, as our demo video shows it can get quite noisy on a windy day.
LG Optimus V Battery Life:
Battery life is a big concern for many Android owners who are coming from devices that can last days, to their first smartphone which often lasts just a day. During our use, we were able to get through a full day of normal use without needing to charge up. Battery life can be affected greatly by how much you talk or how many applications and services you have running. If you are syncing the phone with Gmail, a work email, Twitter every 5 minutes and Facebook then the battery will drain faster than just syncing to one or two of those services and doing so at a larger window of time.
One app that users often turn to in order to extend their battery life is Juice Defender which you can see demonstrated in the video below.
LG Optimus V Pricing:
The LG Optimus V can be found online and in many retail stores with a normal price of $149.99. Occasionally the phone will go on sale at outlets like Target for $129.99. Unlike the prices for similar phones at Verizon or AT&T, there is no contract required so the phone is still much cheaper than a free Android phone from either of these competitors.
LG Optimus V Data Plans and Phone Plans:
The LG Optimus V works on the Virgin Mobile network, powered by Sprint and is a part of the Beyond Talk plans that start at $25 a month. These plans include unlimited data and texting, but if you use too much Virgin Mobile will slow down your speeds. We don't like the practice, but we think that most Optimus V owners won't be impacted greatly by this restriction. Plans go all the way up to $60 for unlimited text, data, email and calling.

LG Optimus V Settings and Hotspot:
The Optimus V doesn't come with the ability to use as a mobile hotspot, but if you install the Quick Settings Android App you can enable Hotspot Wireless Tethering.
LG Optimus V Review Conclusion:
The LG Optimus V from Virgin Mobile is a capable smartphone that will meet the needs of many users. While it may not have the best camera or the largest screen it is an Android smart phone that delivers a very good user experience and value. The LG Optimus V on Virgin Mobile is perhaps the best Android phone for first time smartphone owners thanks to its overall performance and the value of Virgin Mobile's no contract Beyond Talk plans.
Pros:
No Contract
Good Price
Can Handle The Apps and Needs of Most Users
Good Call Quality
Cons:
Sound Quality is not the best for Music
Camera has no Flash
LG Optimus V Gallery:
Advertisement