Acer's new Aspire Timeline Ultra M3 is the first ultrabook to hit the US with discrete graphics on board. Acer and NVIDIA tout it as the first "true ultrabook" thanks to the power under the hood. But with a 15.6-inch display, will most consumers really place it in that category?
The screen size coupled with the inclusion of an optical drive means that most will compare this laptop with other mainstream machines. And with an expected price of around $999, buyers on a budget will want a notebook that can do more than just the basics.
Can the Ultra M3 live up to those expectations? Read our full review to find out.
Pros

Speedy
Great graphics performance
Slim and lightweight for a 15-inch machine
Long battery life

Cons

Sub-par touchpad
Display resolution only 1366 x 768
Ports in an awkward place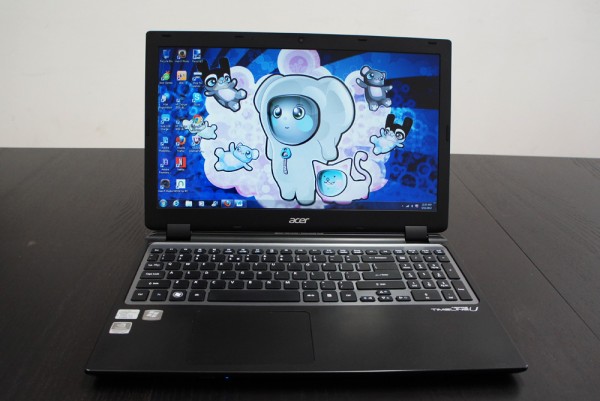 Acer Aspire Timeline Ultra M3 | Ultrabook

The Competition
Who is the Timeline Ultra M3 for?
Consumers who like the ultrabook form factor but need a larger screen size will appreciate the real-estate that 15.6-inches offers. Users who need a machine that can handle resource-intense tasks — such as master multitasking or editing images and video — with speed and efficiency can count on the power of discrete graphics. Shoppers looking for a machine that can handle most popular games but don't want or need a rig exclusively for that purpose will be impressed by the power of Nvidia's newest GPU. Students who need a laptop they can carry to class and get them through both finals and downtime. Anyone who needs a laptop that is portable and powerful in equal measure.
Design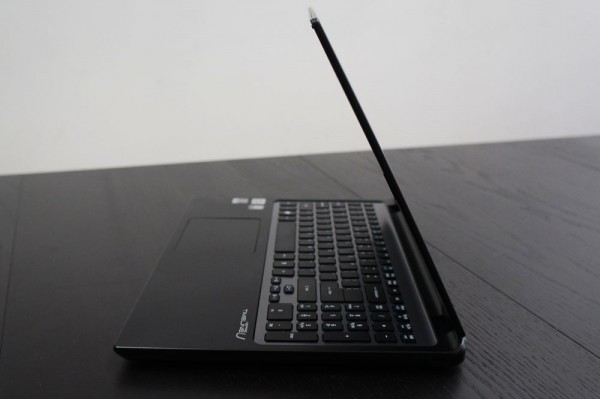 The Ultra M3 definitely earns the ultrabook moniker with its slim frame and light weight. Though saying "it's light for a 15-inch laptop" may seem like faint praise, it's a pretty big deal for users who just can't get real work done on 13-inch machines yet don't want to give up on portability. At 4.5 pounds this Ultra M3 is the same weight as the 13-inch MacBook Pro and just slightly heavier than the 4.4 pound, 14-inch HP Pavilion dm4.
Many ultrabooks are razor thin for the sake of razor thinness and in the process sacrifice important ports. The Ultra M3 is only 0.78 inches thin with a 14.75 x 10.0 inch footprint. This size allows for an optical drive, found on the left, as well as an SD card slot, three USB ports (one of them USB 3.0), HDMI and Ethernet.
My only complaint is that everything except the optical drive and the card slot are on the back of the laptop, so they're less convenient to get at when plugging in flash drives, peripherals and the like.
Aesthetically, this notebook is simple but well-designed and attractive in a black tie kind of way. Acer kept it basic with an all-black paint job with the exception of slate grey around the keys.
Keyboard and Touchpad
Like most ultrabooks the M3 sports an island-style keyboar with flat keys. Since it's a 15-inch rig users also get a full-size number pad on the right. The keys have decent travel but are a little small, which is odd since there's plenty of room for more surface area. Due to this and the minimal travel I often missed letters when typing, especially when going fast.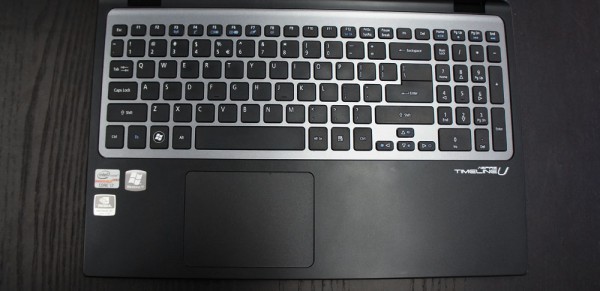 The lack of backlighting is disappointing, especially for a premium laptop, but not a dealbreaker for everyone.
The large clickpad is problematic, but what else is new with PC clickpads? On the Ultra M3 I most noticed issues when trying to perform tasks that took precision, such as selecting text.
The touchpad also doesn't deal well with one finger resting on the surface while the other moves around. The bottom corners are stiff, which won't be a problem for people trained to tap to click and will annoy people who prefer mouse buttons.
Display
The 15.6-inch display impressed me with bright, rich colors and deep blacks. Since the surface is glossy it doesn't do well in the sun, but the viewing angles are good. At extreme angles you'll encounter color distortion, but within a normal range things look as they should.
The disappointment comes in the resolution: 1366 x 768 pixels. While you might be able to convince me that this res is acceptable for a 13-inch display, on a 15-inch one it borders on sad. A screen this size should be at least 1400 x 900, even if this is just an ultrabook.
Performance and Battery Life
Acer packed the Ultra M3 with speedy components, so it's no surprise that it performs well. A 1.7-GHZ Intel Core i7-2637M processor drives this ultrabook, backed by 4GB of RAM and a 256GB solid-state drive (SSD). And, as I mentioned before, Nvidia's GeForce GT 640M graphics card backed by 1GB of dedicated VRAM. Though the Intel processor is an ultra-low voltage model, most users will get the same performance out of this as mainstream laptops with Core i5 CPUs.
In my time with the Ultra M3 I multitasked like mad, regularly switching between up to 40 tabs each in FireFox and Chrome with Photoshop Elements, Microsoft Word, Skype and Digsby running as well. Normally the massive FireFox tabbing is enough to make a computer groan since the browser is such a resource hog, but this ultrabook didn't sweat.
The SSD is also very fast, which helps when copying files, opening programs (usually less than 5 seconds), and booting or resuming from sleep. Acer's Instant Connect promises to get you on the Internet in 2.5 seconds after waking, and in my experience that rang true whenever connecting to known networks.
With Wi-Fi on and the screen brightness set to 40%, I ran the LAPTOP Magazine Battery Test, which surfs constantly until the battery dies. The Ultra M3 lasted 7 hours and 20 minutes under these conditions, which is 40 minutes shy of the promised 8 hours. In my time using this machine I was able to get up to 10 hours out of it with Wi-Fi on for between 4 and 5 hours and the screen set at 25% brightness.
This impressive battery life is possible even with discrete graphics because the ultrabook has Nvidia's Optimus technology inside which switches to the graphics card automatically only when needed, allowing the integrated graphics to take over and save power.
Bottom line: you can leave the A/C adapter at home most of the time, which means less weight in your bag.
Graphics, Gaming and Multimedia Performance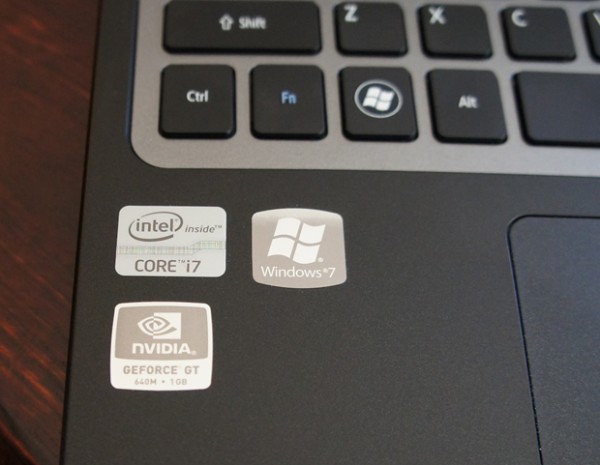 The Nvidia GeForce GT 640M graphics card inside is built on the company's Kepler architecture, which means that it's powerful, but efficient. The efficiency is key to the Ultra M3's good battery life, the power is important for consumers who want an ultrabook that can do everything.
The graphics card not only makes playing resource-intensive games like Battlefield 3 and Batman: Arkham City possible, but also means that users can edit images with a program like Photoshop and video with a program like Premiere or PowerDirector without having to wait for the computer to catch up. When exporting a 720p 30fps 5 minute video to MPEG 4, Adobe Premiere Elements completed the export in under 5 minutes with quality set high. While using Photoshop Elements I noted that I was able to crunch, add filters and do edits on even large image files in just a few seconds instead of having to wait.
Though hardcore gamers won't find the Ultra M3 suitable for their everyday needs, this ultrabook does have great gaming chops. Players will see well over 100fps on average-intensity games like World of Warcraft and between 50 and 70fps on more graphics-intense games like Battlefield 3. Even super resource hogging games are playable, though with those you're getting into needing a gaming rig, anyway.
With all this power, playing HD videos well is a given. Thanks to the Dolby speakers and the large display, watching movies is a great experience. Just as with games, I didn't note any pixilation, hitching or anything to mar my enjoyment.
Price and Availability
Acer hasn't announced the final US price for the Ultra M3, though it should be available on Amazon.com and NewEgg.com within the next two weeks. Without knowing the price, it's hard to determine whether this ultrabook is worth buying. Since it's an ultrabook, most predict a price around $999.
The Bottom Line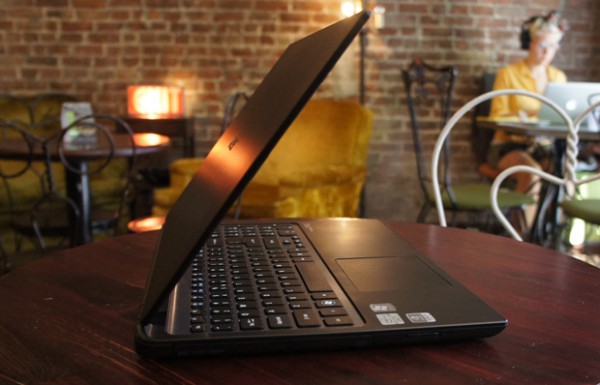 The Acer Aspire Timeline Ultra M3 may not fit into most people's pre-conceptions about what an ultrabook is (or isn't). But even if you think of it as a thin and light mainstream laptop, it still holds up pretty well when compared to systems like the Sony VAIO SE, Dell XPS 14z and the HP Envy 15. You get enough power for both typical usage and more intense, specialized tasks in a package light enough to carry around everywhere, should you need to.
The disappointing resolution is a big drawback for multimedia lovers and hard core gamers and the sub-par touchpad is a downer for everyone. But neither of these issues is enough to put me off the Ultra M3 completely.
While most ultrabooks make great companion laptops but won't do as primary computers for power users, the Ultra M3 is good enough to be the only notebook you'll need. However, until Acer finally releases the price, it's hard to know if the whole package represents a good value.
Gallery
Specs
| | |
| --- | --- |
| OS | Windows 7 Home Premium 64-bit |
| Display (size/res) | 15.6-inches, 1366 x 768 |
| CPU | 1.7-GHZ Intel Core i7-2637M |
| RAM | 4GB |
| Graphics | Nvidia GeForce GT 640M / Intel HD Graphics 3000 |
| Storage | 256GB SSD |
| Optical Drive | DVD SuperMultiDrive |
| Wireless | Wi-Fi 802.11 b/g/n |
| Ports | 1 USB 3.0, 2 USB 2.0, HDMI, Ethernet, SD card slot, headphone/mic |
| Size | 14.8 x 10.0 x 0.78 inches |
| Weight | 4.5 pounds |
Advertisement