According to a preliminary International Data Corporation estimate, HP and Dell remain in the lead for US computer sales. The real news here is the closing gap between Acer and Apple, who are fighting for third place.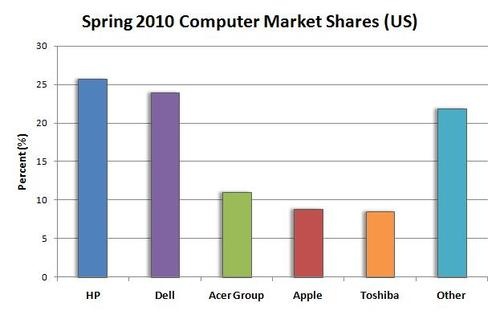 HP and Dell have led in US computer sales for a while now. Far away from Dell, Acer has stood its ground at the number three spot. However, Apple has recently shown a sales increase, controlling 8.8% of the market. This closes the gap between Acer and Apple quite a bit. Additionally, Acer dropped from 12.3% to just 11% of total market share. IDC claims that Acer's lost of market share is primarily due to a "strong year-ago performance". The company saw slow growth in the US and Japan, but has grown rapidly in emerging markets.
Some speculate that this narrowing of the gap may be due to Apple's iPad stealing some would-be Acer netbook purchasers. This cannot be confirmed because Apple's iPad is a tablet and is not included in the computer category. Coincidentally, it looks as though Acer may be entering the tablet market as well.
Overall US computer shipments increased 12.6%, which is expected to be undermined by the slow economic growth and rising costs in the second half of 2010 . with worldwide shipments rising 22.4%. This increase was demonstrated in Quanta's record-setting month for laptop shipments.
Advertisement