Light, long-lasting and reasonably priced. The nature of computing has changed drastically from what we started out with. What was once an industry dominated by hobbyists is now overrun with regular people looking to do normal things with a PC that's good enough for their needs. It's this environment that the Lenovo IdeaPad 100 launches into.
It's an everyman's notebook. A PC that isn't too flashy or too expensive. Lenovo IdeaPad 100 models start at a low $299. Two designs exists; one has a 14-inch display for users mobility-minded buyers. The other is a 15-inch model with a slightly higher price tag to match. Prices this attractive demand attention. Thankfully, the IdeaPad 100 is a great buy.
Lenovo IdeaPad 100 Review – Design & Internals
Understated is an adjective that best describes the IdeaPad 100. Buyers in this price range are looking for something tough, and something that gets the job done. Other PC makers have taken a different approach to design than Lenovo has, opting for loud colors. The IdeaPad 100 is black and made of some seriously tough plastic. Everything from the keyboard deck, to the lid and screen bezel, is black and plastic.
The outside shell of the IdeaPad 100 is textured, with tiny indents that allows users to get a firm grip while carrying it. This texture doesn't extend to the bottom of half of the notebook, where fan holes allow it to breath and rubber fit keep it firmly in place on a task or lap. On the left edge of the Lenovo IdeaPad 100 is a charging port, full-size networking port, HDMI port, a USB 3.0 port and a USB 2.0 port. The front edge holds a media card reader and status indicators for power, caps-lock and charging. The right edge has no ports, with Lenovo adding just a Kensington lock slot for those who need to secure their PC. The entire machine weighs just 4 pounds.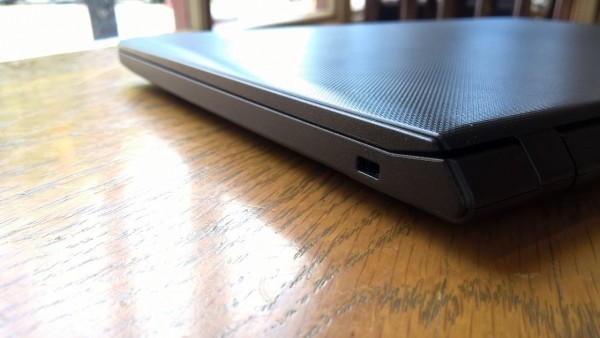 Sitting just beyond the sunken keyboard area are speakers and a power button. Just below the keyboard is the two-button touchpad. Physical buttons that users can push aren't something we have a lot of in notebooks these days. Popular opinion seems to be that trackpads with two physical buttons are better for users. I'm certainly happy that Lenovo included them. They're delightful to click. That's something I haven't said about a trackpad in a very long time. The keyboard deck is equally satisfying and the extra space that the display demands has left Lenovo room for buttons I wish every notebook still had. There's a full row of navigation keys on the right.
I didn't expect to be very impressed by the 1366 x 1768 display incorporated into the IdeaPad 100. Most displays come in higher resolutions these days. For the most part, my fears were unfounded. Text, video and other on-screen elements look terrific. The viewing angles aren't great but definitely manageable. Things do get weird when you upgrade the notebook to Microsoft's Windows 10 operating system for free. Windows 10 handles scaling in a different way than other versions did. The change results in apps with huge on-screen elements.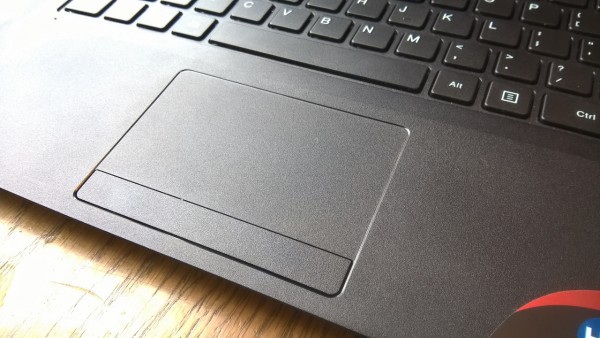 I liked being able to see everything on my screen without first zooming in, particularly in Microsoft Word. The IdeaPad 100 comes with an Intel Celeron Processor, 4GB of RAM and 500GB of storage space. Wireless and Bluetooth 4.0 are included. It's just the right mix of storage space and RAM to do Windows 10 justice, for the overwhelming majority of people.
By design, it isn't right for all people. Media creators and gamers should most certainly explore Lenovo's other options.
Lenovo IdeaPad 100 Review – Performance & Experience
Windows Store apps like Microsoft's Office Mobile apps run just fine. Browsing in Windows 10's Edge replacement for Internet Explorer isn't terrible either.
Windows 10 has memory management tools and app restrictions that make allowances for less robust machines in the name of performance. Multitasking with lots of different apps open worked just fine on the Lenovo IdeaPad 100. Some sites — mainly those with an egregious amount of ads — did slow the machine down, but that was few and far between. Creating documents, reading emails, downloading music was all flawless. I can't be clearer: the things that normal users do, this machine excels at.
You are going to want to clear the machine of some of the apps Lenovo includes. Mainly, McAffee should go immediately. Windows 10 and Windows 8.1 both have Windows Defender. Phone Companion and OKO add very little value while nagging you from the Taskbar.
The front-facing web camera and microphone are for video chatting. Both are decent stand-ins for external accessories.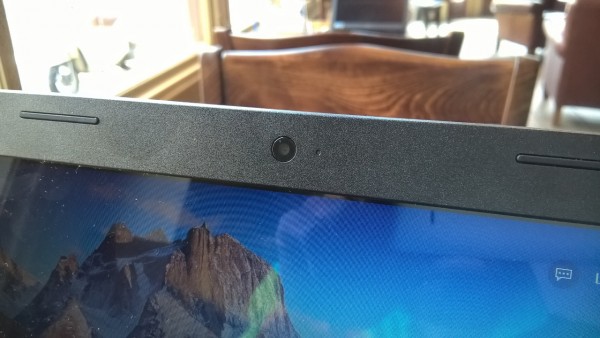 One thing that stood out for me was the Lenovo IdeaPad 100's 4 hour battery life. Most people don't sit down and expect their machines to last through a six hour work session. I certainly don't. Instead, I tried to use the IdeaPad 100 as a normal person would, turning it off and on intermittently for email and note taking while away. Lenovo rates the battery for 4 hours, which I did get throughout the day. However, I felt like I had to worry about charging too much. I wish Lenovo could have squeezed another hour of screen time. To its credit, Lenovo did make an incredibly small charger for the IdeaPad 100. It can easily be stuffed into a bag or pocket.
Lenovo IdeaPad 100 Review – Should You Buy?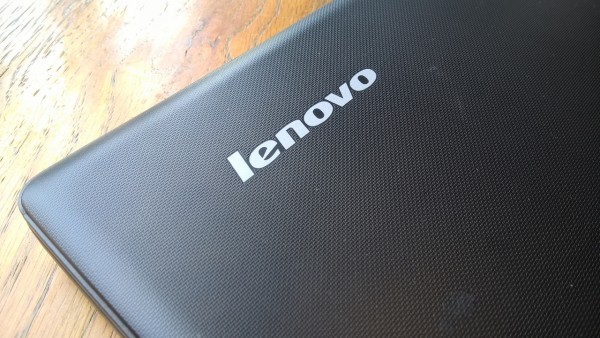 If you're looking for an entry level PC that'll run Windows 10, the Lenovo IdeaPad 100 is just fine. If you're looking for a PC to gift someone who only sparingly needs PC access, the IdeaPad 100 is a good choice too. The only thing the IdeaPad 100 isn't great for is frequently mobile users. Another 1 hour of battery life is crucial for anyone who spends large amounts of time from their desk.
Advertisement