The ASUS ROG G74SX announced earlier this month is now ready for gaming notebook buyers to snap at ExcaliburPC. They are the first to offer these Republic of Gamers notebooks here in the US. These gaming and HD video powerhouses come with an Intel Sandy Bridge Quad-core i7-2630QM 2.0 GHz processors and a 17.3″ screen with a 1080p resolution.
The two different models available – the G74SX-3DE for $1,979 and the G74SX-A1 for $1,745 both have an NVIDIA GeForce GTX 560M GPU with 3GB of DDR5 video RAM. The primary difference in these models is that the 3DE model offers 3D video playback on the 17″ display with included 3D glasses.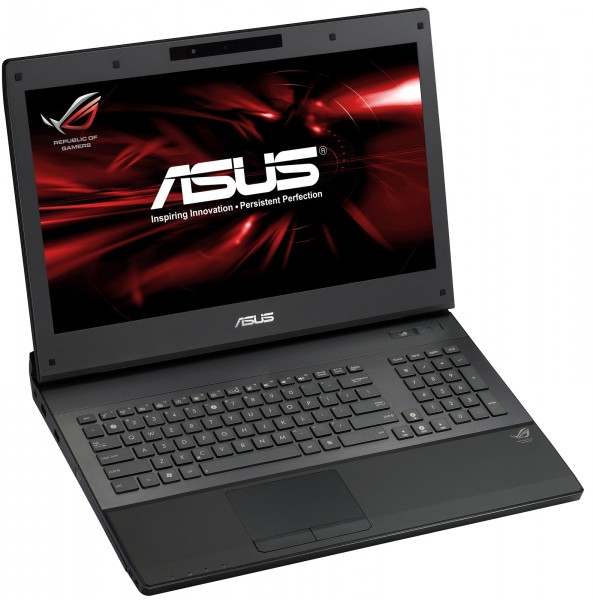 Gaming Cooling System
These new gaming notebooks also have a special cooling system that enables the system to stay cool even under processor intensive gaming sessions. The new ROG notebooks pull the air in from a front vent and fan, blowing it over the hot CPU and GPU, drawing the heat off of these components as the air is sucked out the rear fan. Most notebooks do not have this type of front to back fan system in place.
Blu-ray and 3D
In addition to very high-end gaming prowess, these notebooks include Blu-ray drives and in the case of the G74SX-3DE a 3D screen and glasses which can be used to watch 3D Blu-Ray movies and play 3D games.
ASUS ROG G74SX Specs
12GB of DDR3 RAM (up to 16GB)
2x 750GB 7200RPM hard drives for 1.5TB total
2MP Webcam
8-in-1 card reader
Windows 7 64-bit with a free recovery DVD
802.11 B/G/N Wi-Fi
Gigabit Ethernet
Bluetooth 2.1+EDR
Mic and Headphone jacks
VGA and HDMI out
1 USB 3.0 and 3 USB 2.0
Illuminated full-size keyboard with dedicated number pad
8 Cell battery
9.4lbs
ASUS ASUS ROG G74SX Video
Gallery
Advertisement