The free Windows 10 upgrade that Microsoft unleashed only a few weeks ago is making waves. Within the first week 14 million notebooks, tablets, desktops and 2-in-1s were already running the operating system. There are Windows 10 upgrade problems, but an ever-increasing amount of users seem drawn to the operating systems features and enhancements. What's more the Windows 10 upgrade doesn't cost anything for devices that have Windows 7 or Windows 8.1 installed. Window 10 also comes installed on PCs directly from Microsoft's partners, letting shoppers skip the digital line and get started with the operating system right away.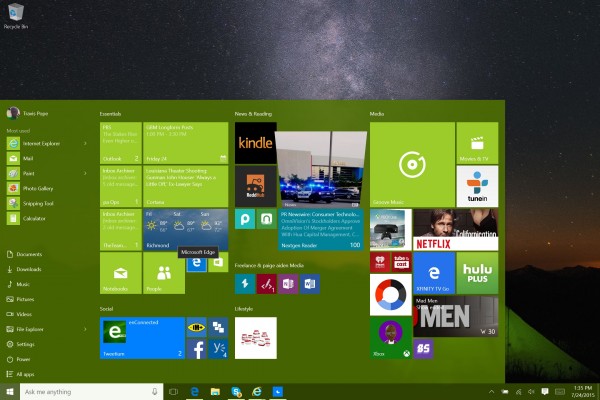 Read: Windows 10 Review – A Love Affair
There are some terrific reasons to download the Windows 10 upgrade, whether your primary focus is getting things done or having fun. Here are 26 of those features you should try right now.
Switch Apps and Create Desktops with TaskView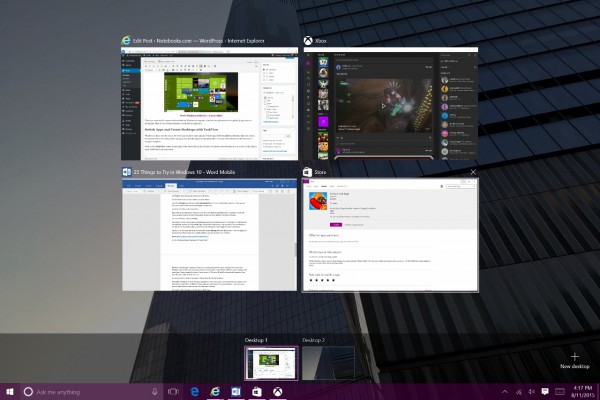 Windows 10 has a way for you to see every app you have open and move those apps between different desktops that you create. It's a great feature for seeing what's going on in a specific app and organizing what's on your screen based on the task you're trying to complete.
Click on the TaskView button to the right of the Search bar in the Taskbar. Swipe from the left edge of your screen to the right to open TaskView if you have touch.
Groove Music Pass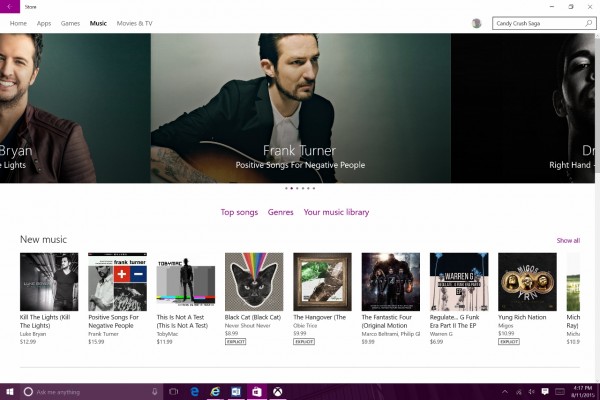 Microsoft's Groove Music Pass allows users to stream entire songs, plus store audio for playback later. Every Windows user gets a month-long free trial accessible directly from the Groove Music in Windows 10.
Go the Windows Store and look in the Music section to start your free trial.
Downloading Apps in the Windows Store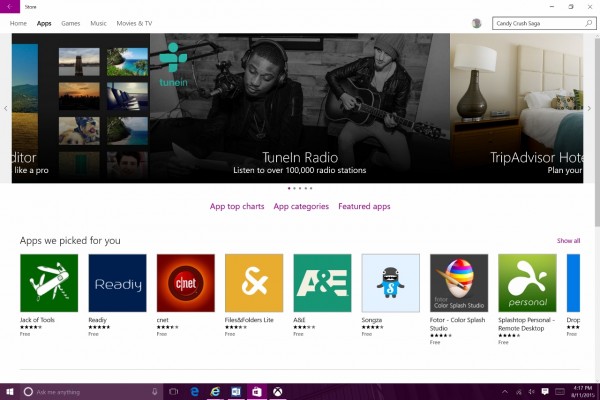 In addition to music and video, the Windows Store now has apps that are mouse, keyboard and touch ready. Download them by going to the Store in your list of installed apps. You'll need a Microsoft Account to get started if you don't already have one.
Read: How to Install Apps & Games in Windows 10
Take Handwritten Notes on Web Pages with Microsoft Edge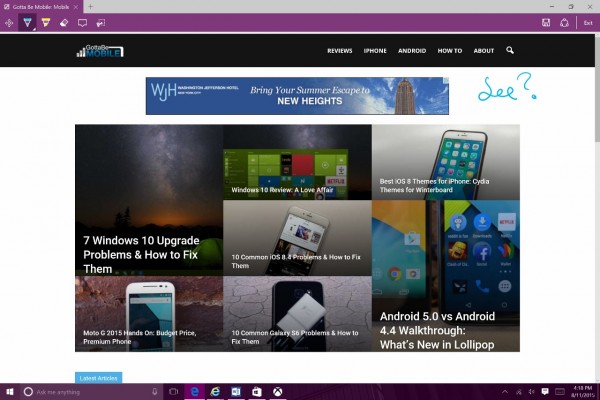 Microsoft wants to make it easy and natural to share your thoughts about anything with a few taps. Microsoft Edge, the new browser in Windows 10, lets you take notes on pages and send them directly to other people.
Open Microsoft Edge from your list of installed apps and type or click on the pen and paper icon on the right side of your screen at the top.
Create Albums in With Great Looking Photos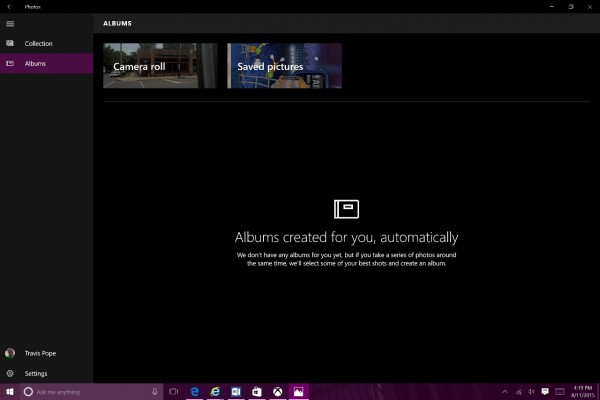 The Windows 10 Photos app organizers your pictures into albums for easier browsing later. In addition to that, Photos also automatically improves the picture quality of pictures stored locally.
To try these features just open the Photos app from the Start Menu/Start Screen. The switch for improving photos automatically is in the app's settings. Albums create themselves as you load more pictures onto your PC.
Save Battery Power with Battery Saver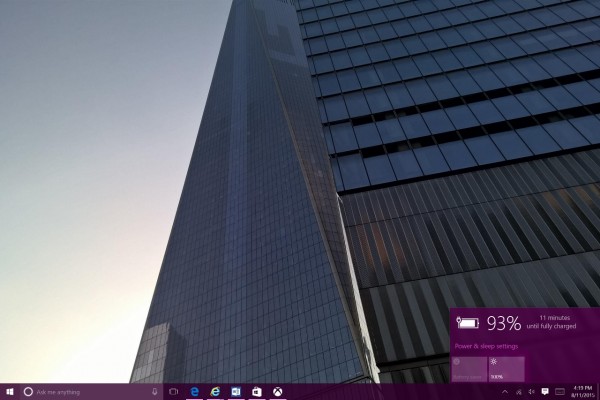 Tap or click on the battery icon in your Taskbar to turn on Battery Saver. Battery Saver dims your screen and keeps background tasks from apps to a minimum so your device can last longer in between charges. It also gives you an idea of how much time you have left before your device dies.
Activate Cortana with a Voice Command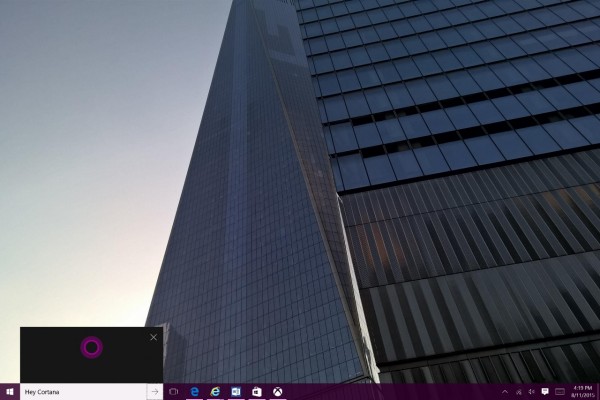 Cortana, Microsoft's personal assistant from Xbox One and Windows Phone, lets users create reminders, search the internet and check their calendar. By default, users have to hit the microphone icon in the Taskbar to prepare Cortana for a voice command.
Read: How to Use Hey Cortana with Windows 10
Click on the Search bar and open Cortana's Notebook. In the Settings are there's a toggle for letting Cortana listen in for a voice command. If activate, Cortana is ready to do your bidding as soon as she hears "Hey Cortana."
Microsoft Office for Free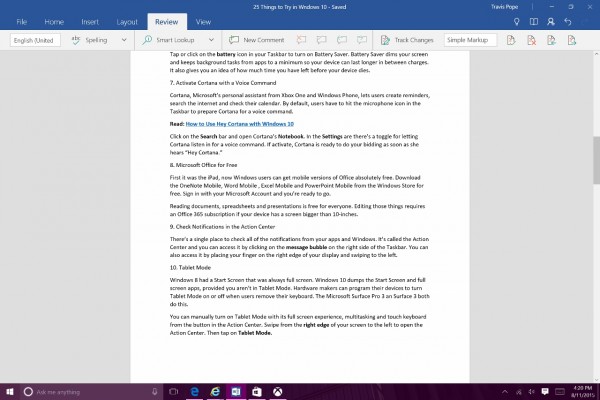 First it was the iPad, now Windows users can get mobile versions of Office absolutely free. Download the OneNote Mobile, Word Mobile , Excel Mobile and PowerPoint Mobile from the Windows Store for free. Sign in with your Microsoft Account and you're ready to go.
Reading documents, spreadsheets and presentations is free for everyone. Editing those things requires an Office 365 subscription if your device has a screen bigger than 10-inches.
Check Notifications in the Action Center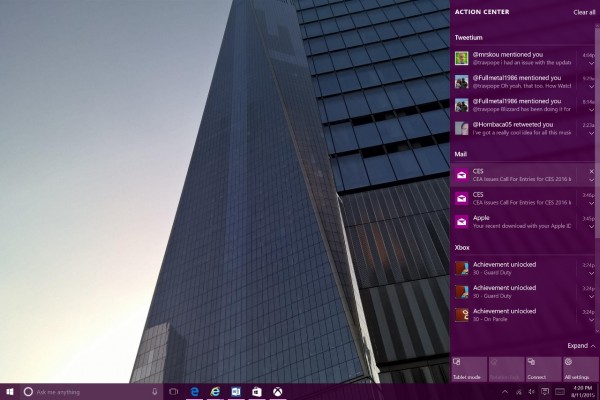 There's a single place to check all of the notifications from your apps and Windows. It's called the Action Center and you can access it by clicking on the message bubble on the right side of the Taskbar. You can also access it by placing your finger on the right edge of your display and swiping to the left.
Tablet Mode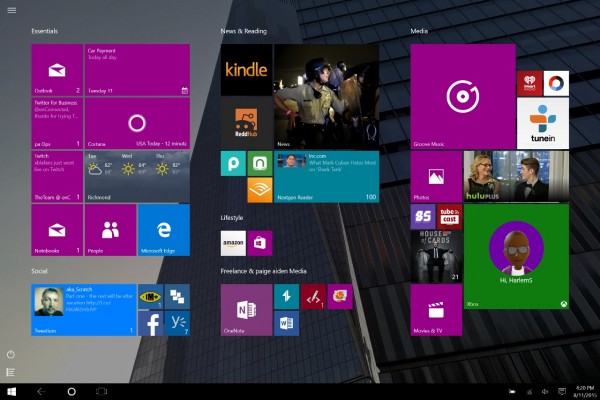 Windows 8 had a Start Screen that was always full screen. Windows 10 dumps the Start Screen and full screen apps, provided you aren't in Tablet Mode. Hardware makers can program their devices to turn Tablet Mode on or off when users remove their keyboard. The Microsoft Surface Pro 3 an Surface 3 both do this.
You can manually turn on Tablet Mode with its full screen experience, multitasking and touch keyboard from the button in the Action Center. Swipe from the right edge of your screen to the left to open the Action Center. Then tap on Tablet Mode.
Start an Xbox Live Party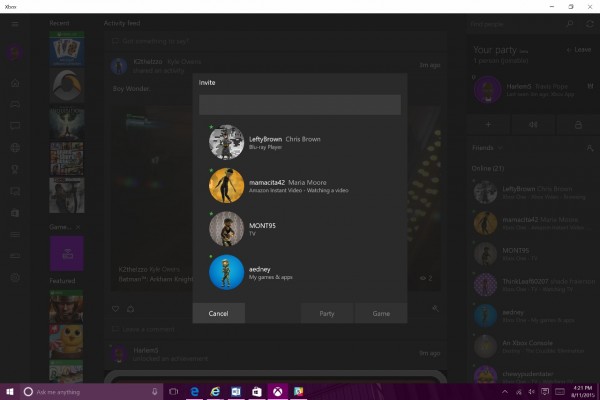 Open up Windows 10's dedicated Xbox app to chat with friends over Xbox Live. This feature can be used inside and outside of games, plus it works with Microsoft's Xbox One entertainment console too.
Record PC Games
Windows 10 lets users record video and take screenshots within their games for sharing over Xbox Live. When you open a game the Gamesbar should appear immediately. You can manually trigger it by holding the Windows key and the G key at the same time.
Syncing OneDrive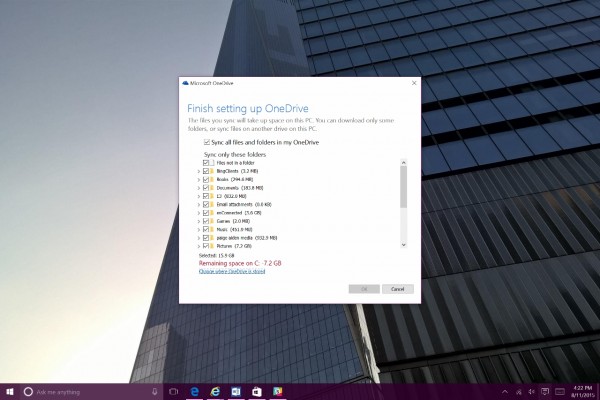 OneDrive was available in Windows 8. Functionally, it hasn't gotten in serious upgrades in Windows 10 yet. You should try it if you haven't already. Open the OneDrive programs from the list of programs and apps you have installed on your device. Now configure where you want your stuff to be stored. OneDrive will sync the folders you tell it to, silently. Added the iPhone, Android and Windows Phone app to the mix and you never have to manually upload your pictures again.
Send an Email with Cortana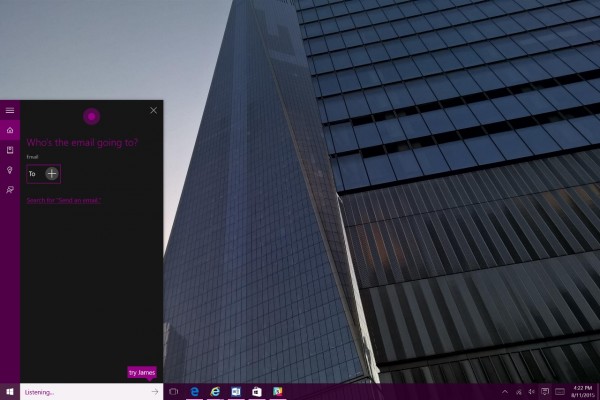 You can send an email to anyone in your address book without typing a single sentence. Click or tap on the microphone icon in the Taskbar and tell Cortana to send an email to a person in your address book.
Sync Gmail to Outlook Calendar & Outlook Mail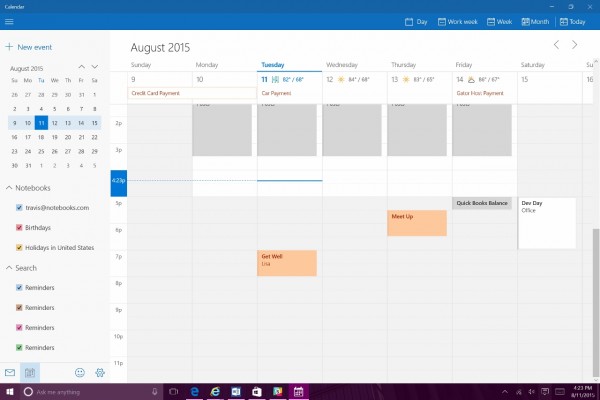 Outlook Calendar, Outlook Mail and the People app allow users to finally sync the stuff they have from Google's Gmail service. Go to one of the app's account settings to add your Gmail account. Once done, information from that account will sync to all three.
Add Some Color to Your Taskbar and Start Menu
Go to the Settings app and look under Personalization for more customization options. There you can add some color to Windows 10 and toggle transparency.
More Live Tiles on the Start Menu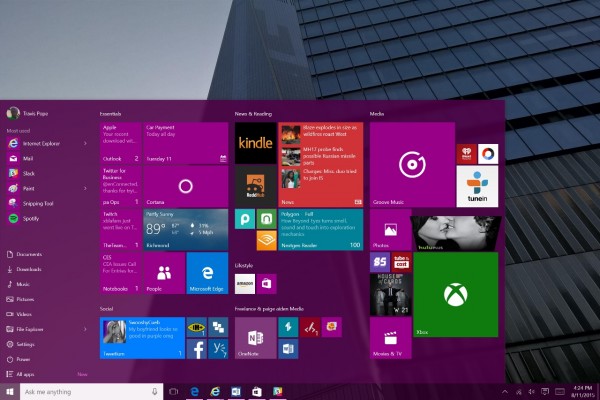 Right click or tap and hold on any app to Pin it to your Start Screen/Start Menu. Websites, music and more can be pinned to the Start Menu/Start Screen too from different Windows 10 apps.
Turn Off Flash in Microsoft Edge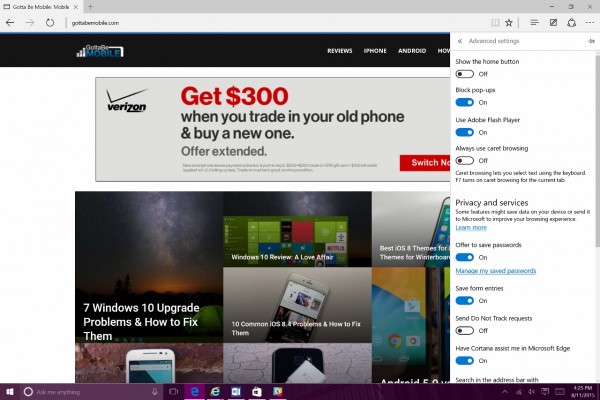 Microsoft is finally in the process of switching away from Internet Explorer. The program is still there for compatibility reasons, but Microsoft Edge is its official replacement. Edge includes a few cool features, but the best is the ability to flip a switch and turn off Adobe's Flash plugin for faster load times.
Tap the … on the right side of your screen then select Settings from the drop menu. There's a toggle for disabling Flash in Advanced Settings. Know that disabling Flash could also disable some websites.
Read: How to Browse the Internet in Windows 10
Multitasking & App Snapping with Snap Assist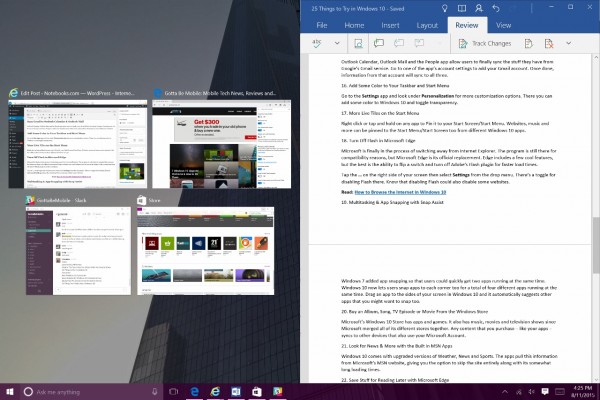 Windows 7 added app snapping so that users could quickly get two apps running at the same time. Windows 10 now lets users snap apps to each corner too for a total of four different apps running at the same time. Drag an app to the sides of your screen in Windows 10 and it automatically suggests other apps that you might want to snap too.
Buy an Album, Song, TV Episode or Movie From the Windows Store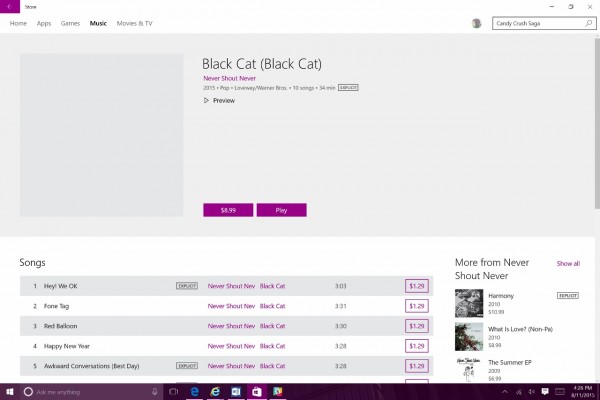 Microsoft's Windows 10 Store has apps and games. It also has music, movies and television shows since Microsoft merged all of its different stores together. Any content that you purchase – like your apps – syncs to other devices that also use your Microsoft Account.
Look for News & More with the Built in MSN Apps
Windows 10 comes with upgraded versions of Weather, News and Sports. The apps pull this information from Microsoft's MSN website, giving you the option to skip the site entirely along with its somewhat long loading times.
Save Stuff for Reading Later with Microsoft Edge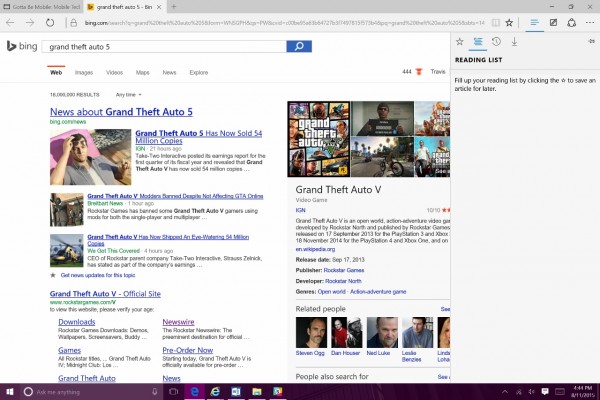 Click on the Reading List button in the top-right corner of Microsoft Edge to store links to articles that you'd like to read later on. Those links sync to all Windows PCs and the Reading List app on Microsoft's Windows Phone operating system.
Tap the Reading View button to get only the text from a web page that you find interesting. This is particularly useful for sites with very busy designs and extra content.
Connecting Wireless Displays
Windows 10 supports wireless display technology so that users can show case what's on their screen to an entire room. Open the Action Center by clicking on its icon in the Taskbar or by swiping to the left from the right edge of your screen. Select Connect from the list of options you have.
Windows 10 will hunt around your wireless network for any wireless display receivers it can find. You can mirror what's on your screen or treat the screen attached to that wireless display app as a separate display.
Earn Xbox Achievements with Free Games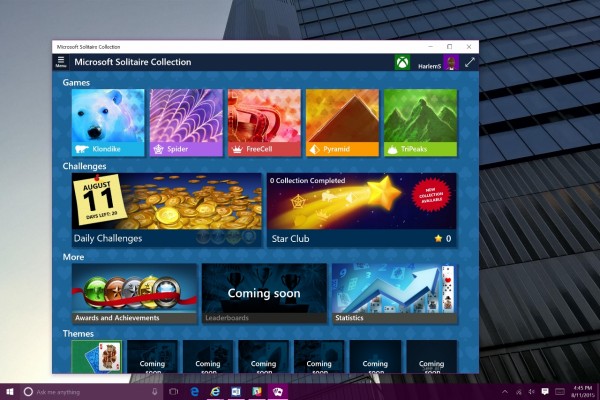 Solitaire is part of the Microsoft Solitaire Collection and installed free of charge on your PC when you upgrade to Windows 10. Fair warning, it does have video ads.
The Windows Store is filled with other games that unlock Xbox Live Achievements too.
Sign in with Windows Hello
Finally, there's Windows Hello. Windows Hello is one of the few features in Windows 10 that requires specific hardware. If your device is equipped with that hardware already, you have everything you need. If you don't, you might need to purchase an accessory.
Windows Hello uses Intel Real Sense cameras, and fingerprint readers to let you unlock your device without a password. If your device has a fingerprint reader or Intel Real Sense camera already, just setup Windows Hello from the Accounts area in the Settings app.
Bonus. Play Games from Xbox One on Windows 10
Microsoft's Xbox One entertainment console and Windows 10 connect almost seamlessly through the Xbox app. You can send messages, browse achievements and more. You can also stream Xbox One games directly from your console to your Windows PC. This feature is great for when you want to play a game, but sit somewhere other than in front of your television.
Open the Xbox app and click or tap on the Connect button to link your Windows 10 PC and your Xbox One console. Now tap or click on the Game Streaming option in the Xbox app's home screen. Note, you'll need an Xbox One Wireless Controller to get this working.
Read: How to Use Xbox on Windows 10
Good luck with your Windows 10 upgrade or your new Windows 10 device. The operating system takes some getting used to, but the changes it contains are worth the extra effort it takes to familiarize yourself with it.
Advertisement