Lenovo made big news by announcing plans to buy Motorola from Google recently, and now they making more news as they announce a plan to offer a pair of new Chromebooks for schools. The Lenovo ThinkPad 11e Yoga Chromebook and a traditional clam-shell model called the ThinkPad 11e will go on sale this Spring, but only to schools.
Both versions of the Lenovo ThinkPad 11e come ruggedized to make sure they will withstand the rigors of use in a K-12 environment. Students use the machines and seldom care for them like they would if they owned the machines. Also they probably get use all day every day being jostled as they're transported from class to class. The rubber bumpers, reinforced parts and extra strong hinges will help keep them going all school year.
The ThinkPad 11e Yoga design will work in four different ways, including as a laptop, a traditional tablet, a tent and a stand. This lets students work with them as a traditional computing platform for writing their schoolwork. Put the machine in the tent mode to work with the touchscreen running ChromeOS. They can also pick it up like a tablet and turn the screen back with the keyboard down facing the table or desk to show the screen contents in a stand mode.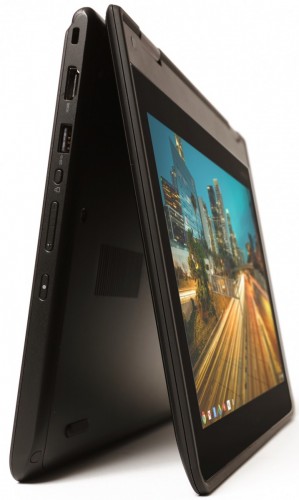 The machines offer an 11.6-inch HD display. The laptop uses an antiglare screen. The Yoga model uses an IPS touchscreen display with a wide viewing angle.
The ThinkPad 11e models will run on an Intel processor with fast booting SSD and all day 8-hour battery life, thanks to a Haswell based architecture.
LEDs network indicators on the top of the machine will let the teacher know if the students jumped online when they shouldn't. This help maintain class order and focus on the lesson.
Lenovo will offer the machines in Graphite Black or Silver. Schools can buy them direct from Lenovo for $349 each. They will also sell a Windows version for $449.
Advertisement