If you didn't win the Lenovo s10-3t that Notebooks.com gave away in January I have great news! Laptop Magazine is giving away a Lenovo s10-3t netbook/tablet in exchange for filling out a short survey on USB flashdrive usage.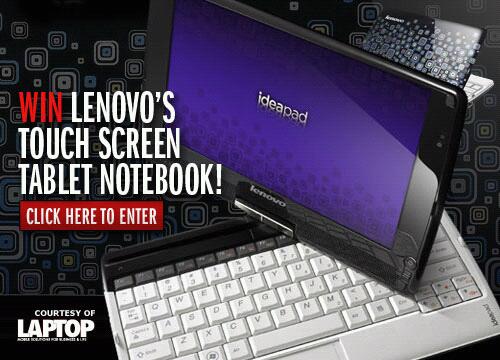 The Lenovo IdeaPad s10-3t tablet device looks a lot like a netbook, but it quickly converts into a tablet complete with a capacitive multitouch display. The more I see this tablet/netbook, the more I feel like it could replace both my full size tablet and netbook and be the perfect companion for a MacBook Pro; if Apple ever puts new Intel Core processors in the Macbooks!
Full specs of the Lenovo IdeaPad s10-3t tablet from Laptop Magazine:
1024 x 600 capacitive display that supports multitouch gestures
1.66-GHz Intel Atom N450 CPU
1GB of RAM
160GB hard drive
Windows 7 Starter.
The contest runs through March 8 so hurry up and enter today!
Advertisement