I'll admit I'm not a fan of Windows 8 on the computer, but it looks like a nice operating system for tablets.
However, Windows 8 isn't all bad.
Despite sharing the 8 things I hate about Windows 8, I do like some things about the latest Windows operating system.
Here are 8 things I like about Windows 8 now that Microsoft launched their Release Preview, the last build before the gold master that they'll send out to manufacturers later this summer.
Windows Live Keeps Settings Across Machines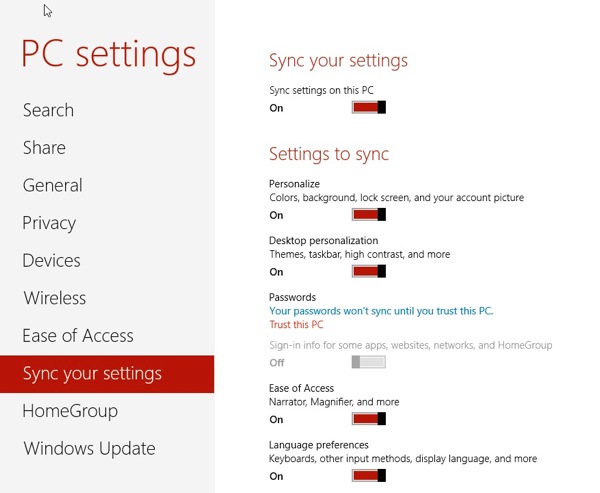 If you set your login to use your Windows Live ID, the settings and accounts you add to your ID will sync across machines. If you own more than one Windows 8 PC, you'll see things like your email accounts and computer settings show up automatically. You turn this on using the new Settings feature accessible by mousing to the upper right corner and waiting for the menu to flare out. Click the settings icon and the above screen shows up.
Live Tiles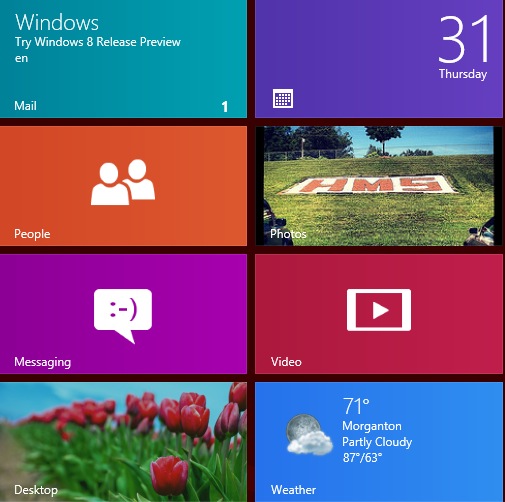 The new Metro User Interface of Windows 8 includes app icons called Tiles, instead of tiny useless icons that do nothing. In Windows 8 your tiles tell you something important, depending on the app.
For example, your mail app tells you how many messages your inbox is holding and gives you the title. The calendar app tells you what date/day it is. The photos app gives you preview of the photos linked to your ID. Notice a Facebook photo showing in the tile below the date. The weather app gives you the current temperature an icon showing you the present conditions in your locale along with the high and low for the day. Other apps will likely take advantage of this. Your Twitter app can cycle through tweets from people you follow or mentions.
Windows 8 Store Remembers Your Purchases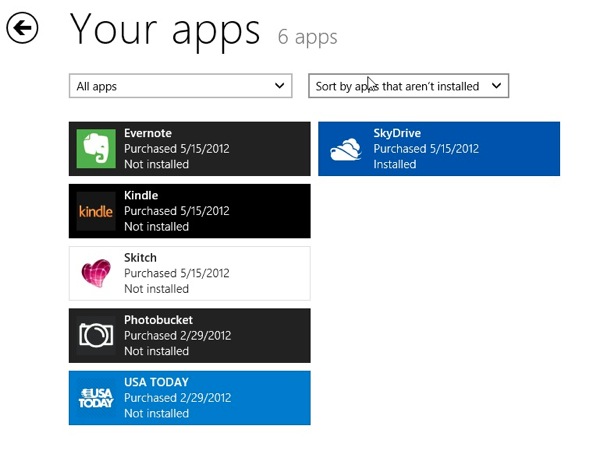 Like other app stores the Windows 8 store knows what you bought. You can quickly restore previously purchased apps once you log into your account. Notice above it lists the apps I purchased on the earlier version of Windows 8. It will show apps that I installed on various machines or list them by apps not installed, by date or by title. Click the app and it asks if you want to install it.
To find the apps you previously installed, right-click on any blank surface near the top or sides. A pair of tabs slides down from the top showing Home and Your apps.
Faster Access to All Your Apps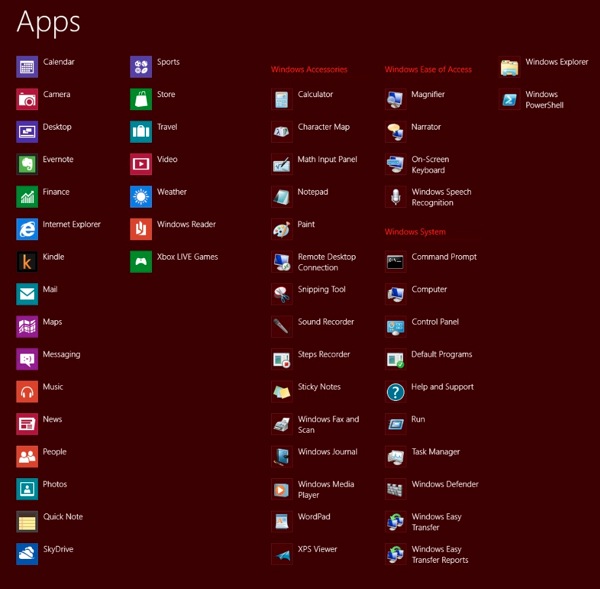 From the Start Screen, right lick and you will see an icon in the lower right labeled All Apps. Click it and you see the above screen. You get quick and easy access to every app installed. If you have enough it will likely show more than one page, but using a 1920×1080 screen you can see that a lot of apps show on one screen.
Metro UI Looks Nice
While I'm still not sold on the functionality of the Metro UI for computers using a mouse, it does look nice. It has a modern attractive look. The tiles are colorful and useful. It just looks good!
Useful Lock Screen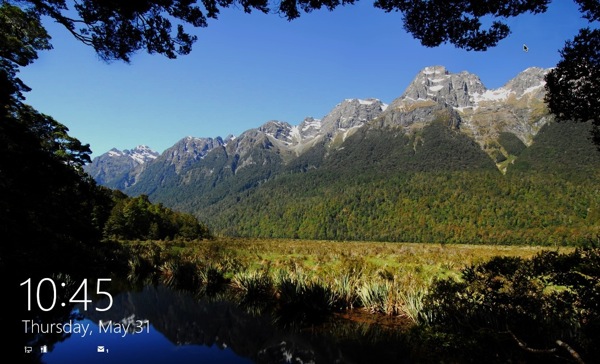 The lock screen on Windows 8 offers more functionality than current Windows versions. You get the time, day and date and icons that show things like battery power and email messages. You can add things like an instant messaging icon or the weather. Third-party developers will add badges to the lock screen in time. Twitter and Facebook users will likely see badges along with many other apps. Plus look at the pretty background. You can also customize it with your own photos.
System Search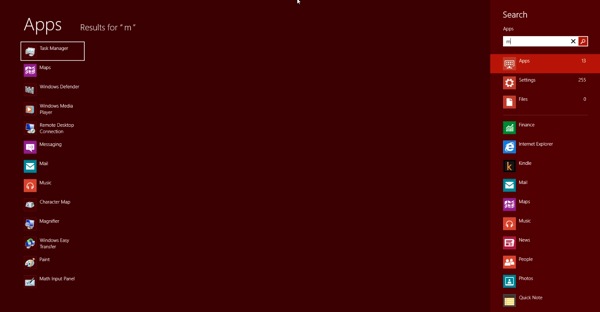 Windows 8 offers a simple way to search your system. Invoke the Charms, those icons that flare out from the right side, and you will see the Search icon atop the list. Click it to show a search box and you get three kinds of searches. Apps, Settings and Files. This gives you quick access to these kinds of things. This also changes contextually. When using the Mail app you can search email as well. Other apps let you search things specific to that app.
Snap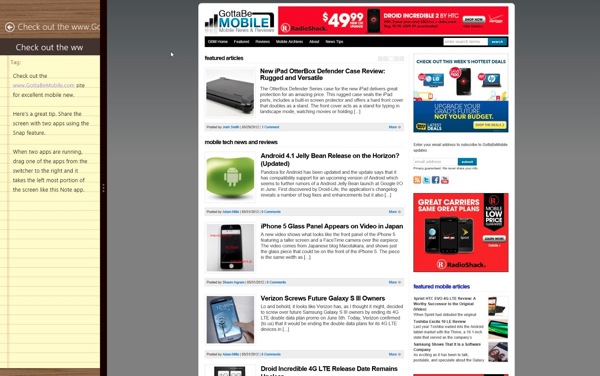 If you use Windows 8 in a tablet environment, this Snap feature will make iOS look foolish. Snap shares the screen between two apps, something your iPad can't do unless you jailbreak it.
To do so, with two apps running, mouse to the upper right corner. The previously used app will show up as a thumbnail. Mouse down to the switcher, which shows up as you move the mouse down along the left side of the screen. Find the app's thumbnail you wish to show next to your active app. Click and drag it to the right and it snaps into place taking a small sliver of the left most part of the screen. You can drag the border to make that app the larger section and the other app the sliver along the right.
Advertisement