Not to be outdone by Google's Docs and other online collaboration tools, Microsoft announced today a new service called Office 365, a cloud service that puts Office, SharePoint Online, Exchange Online and Lync Online all exactly where the names suggest online.
The benefit is that the varying services are always the latest release build of the software; there will be no need for users to download security patches, bug fixes or feature updates. Microsoft's goal is to give users an online tool for storing, creating, sharing and collaborating on projects. There is a limited beta" for the service that is starting today.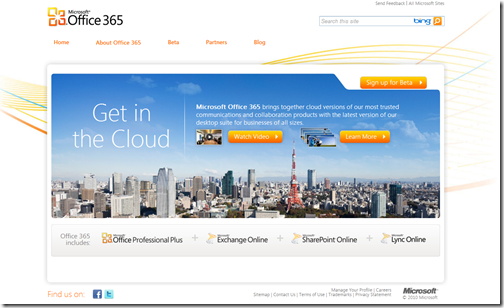 The service will work with most of the web browsers people use. It will also be available on mobile devices and a part of desktop applications too.
Office – WebApps much like Google Docs – for a preview see the current version of online Web Apps at Office Live.
Sharepoint – online collaboration and document sharing
Exchange – email and personal information management shared online and between multiple machines
Lync – enterprise networking and communication tool
The cost will be as low as $6/month for all of the services for companies with 25 or fewer employees. Larger organizations can get it for as little as $2/month for each user. And to get the service along with the Professional Plus version of their PC software on a pay-as-you-go basis" it will cost $24/month for each user. With that you get the office suite, email, voicemail, enterprise social networking, instant messaging, web portals, extranets, voice and video conferencing, web conferencing, 24×7 tech support, and more.
A small private beta starts immediately and the full release will be in 2011. To learn more about it or sign up for the beta, go to the Office 365 web site.
Advertisement