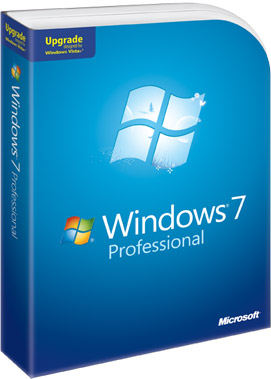 If you haven't upgraded to Windows 7 yet because you can't afford it and books while in school, Microsoft has a special educational pricing deal for Windows 7 Professional. Right now students can get this deal for $29.99.
Windows 7 Professional normally costs $200 to upgrade from previous versions of Windows. The difference between it and the Home Premium or Ultimate versions of Windows 7 are delineated on a special comparison site at Microsoft. In Professional, you get all the features of Home Premium plus the following:
The features you don't get in Home Premium and Professional that are in Ultimate are as follows:
Bitlocker functionality
International language support
There are a few more detailed differences available at the Microsoft website.
Windows 7 is a great upgrade if your hardware can handle it. If you are running Windows Vista, then the $30 price is a no-brainer. Get the update. Windows 7 is so much better than Vista and worth the cost and effort. Also Vista users should have no problems updating. Your hardware should be able to handle it and by now most manufacturers have produced drivers to make their hardware work with Windows 7. Windows 7 runs smoother than Vista and is more stable. Windows 7 is also more secure.
For users of Windows XP, the decision is a little more complicated. The security features of Windows 7 make it a valuable upgrade. Windows 7 looks more modern than XP. Some Windows XP machines can't handle the operating system because they are not powerful enough. To determine if your machine can handle Windows 7 run the Windows 7 Upgrade Advisor which you can download from Microsoft.
Microsoft Office 2010 is also available via educational discount. The Office Professional Academic edition is $79.95. The Professional version normally is $500.
To be eligible for either of these you will have to show proof that you are currently a student. To do so you must have an email address with a .EDU domain or from an eligible institution.
Advertisement