Amazon is taking to Apple and other digital music sellers with Amazon Cloud Player and now with 69 cent MP3s. The company announced that it is offering the new price on many best selling new songs.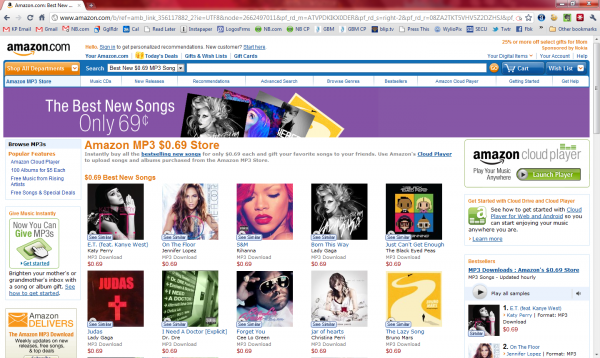 The deal is not on all songs. We did a search for a few of our favorite bands who are not household names. None of them were on the list. So if you don't like pop music you may be out of luck.
Another deal Amazon is offering this weekend is $5 albums. They are discounting 100 albums. This collection looks more like the big bins of CDs no one really wants in the middle of the Walmart aisle. I looked through the entire list and couldn't find a single one I'd purchase, but you might have better luck.
The move is having its desired affect – getting attention away from Apple and iTunes and onto Amazon's new Cloud Player and their digital music store. That is actually the best reason to take part in the album deal. Buy one cheap $5 album, even if you never listen to it, and it gives you extra storage for you own MP3 collection. Their deal gives you an extra 15GB of storage for your music collection for the next year bringing the total to 20GB. That is pretty good considering some of the best file storage services offer only 2-5GB of online storage.
We doubt Apple will match these prices. If the deal brings in a lot of business for Amazon, maybe they will expand the number of songs at this cut rate.
Advertisement