It looks like in addition to the recently launched Apple Mac App Store for OS X users and the Intel App Up app store for Windows users, Microsoft may be looking to get into the app store game for its forthcoming Windows 8 desktop operating system release. The software-maker is ramping up for a Windows 8 App Store, according to Chinese site cnBeta, which has been leaking screenshots of the Microsoft effort.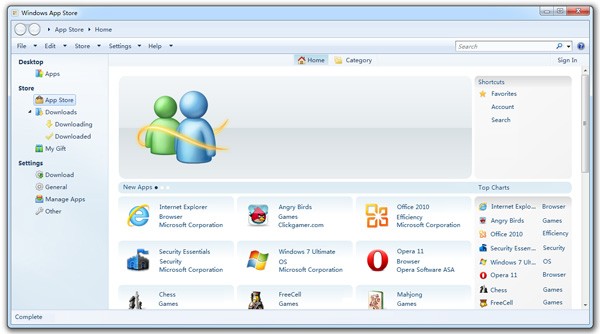 The move to brand the app store as Windows 8 App Store would break away from Microsoft's app retail branding, which currently goes under the 'Marketplace' moniker for the company's Windows Phone 7 mobile devices. The move would also suggest why Microsoft is clinging to its gloves to fight Apple in court over the App Store branding, which the former is asserting is too generic a name to brand and trademark over while the latter is claiming that App Store has been closely associated with its own brands for iTunes, iOS, iPhone, and Mac. If Windows 8 App Store is launched before the App Store trademark fight gets resolved in court, more tension between Microsoft and Apple will develop.
The screenshot of Microsoft's Windows 8 App Store appears to be a native Windows app or program on Windows 8, perhaps one that requires Internet access. The window that Windows 8 App Store fills looks similar to any other File Explorer window displaying the Windows 8 App Store content as if it would display content on your computer, for instance. Microsoft will probably create a Web access portal for those who wish to access the App Store while away from their home computer and through a browser as the company had done with Marketplace for Windows Phone 7, the company's mobile app store for the Windows Phone platform.
Via: Engadget
Advertisement