G-Form offers the Extreme Sleeve for Laptops to protect your notebook from drops and bumps. While it doesn't look like it can keep your computer safe when dropped from 20 feet, it can thanks to some cool case design and surprising materials.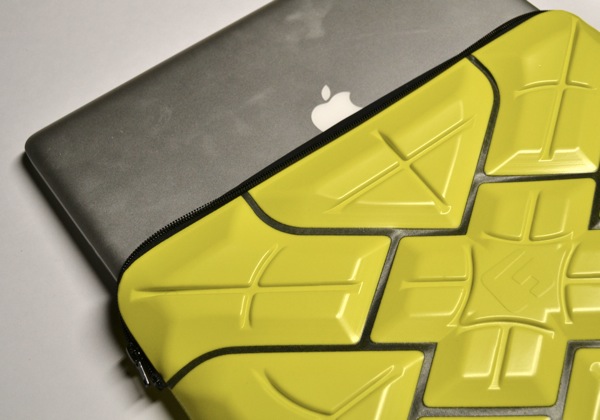 G-Form got their start protecting elbows and knees with their sporting goods line. They applied that experience making pads for the body to making a case for notebooks and the iPad. The result is the Extreme Sleeve, available for laptops and the iPad 1 or 2.
The company grabbed attention when they posted a few videos on YouTube: one of them dropping a bowling ball on an iPad, and one of them dropping the iPad from a plane and the other of them dropping a MacBook Pro off a 20-foot porch. The sleeves protected both machines without a scratch, dent or crack.
We thought that was amazing and wanted to put the sleeve case to the test. We reached out to G-Form, who sent us one of each color of their laptop cases to test.
Our Tests
The laptop sleeve works and looks cool doing it. While we were not willing to drop a bowling ball on our MacBook, we did repeatedly drop it on many surfaces: including a table top from about two feet high. When the MacBook survived we got more daring and dropped it on a carpeted floor from about four feet.
Confidence building, we dropped it on a concrete floor and outside on a driveway. That last one was an accident, actually. The good news is that the computer survived every drop without a scratch. Some commentators asked if the case would survive if dropped on a corner. G-Form said that it would and we can confirm that. When we dropped the computer on a driveway by accident, it didn't land flat on the bottom but hit on the DVD side of the computer. When a smaller surface hits there is more force focused on that spot, but the case did its job and the MacBook still works. I'm using it to write this.
While the case is not water proof it is water-resistant. If you get stuck in a rain storm or spill a small amount of Coke you will be okay.
How it Works
The outer material looks like the body armour you would see in an episode of American Gladiators. It is the design and pattern that does the work. When the case's PORON XRD material comes in contact with something like a bowling ball or a floor it absorbs the blow and stiffens instantly. Even though it is soft to the touch it suddenly becomes rigid, protecting whatever you have inside the case.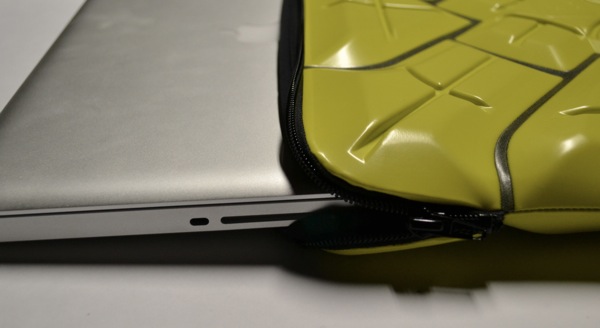 Description of the Sleeve
The sleeve is a zippered case with a soft interior to keep from scratching your equipment. The outside is soft and feels good. It doesn't have a plastic feel but rather a smooth finish that is easy to keep clean (it can be wiped off with a wet rag or towel). The pattern looks cool too. We were given a yellow and black sample and prefered the black, but can see the appeal of the bright yellow for those who like to draw attention to their machine.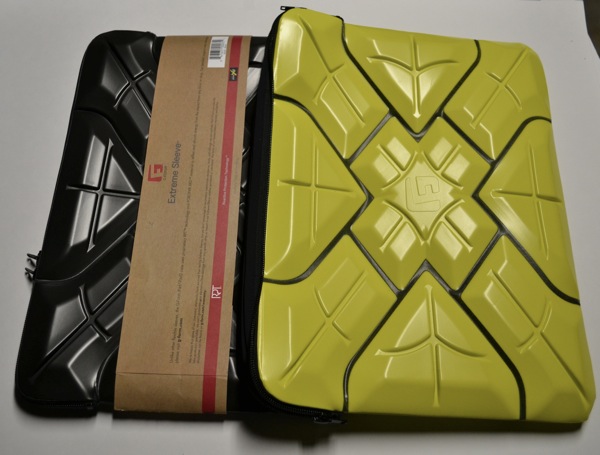 Recommendation and Pricing
We can recommend the case without many reservations. But keep in mind this is a simple sleeve case and our 15″ MacBook Pro was a snug fit. We usually carry around a charger and mouse when we travel. You can't do that with the G-Form Extreme Sleeve. They don't fit. If your computer is thicker than a MacBook Pro it won't fit either. The case is available in sizes and prices as follows:
11-inch – $69.95
13-inch – $79.95
15-inch – $79.95
Those with a 17-inch computer or very thick 15-inch machine need not bother since they don't make one larger than 15 inches.
Pros
Excellent protection against drops and bumps
Soft interior protection from scratching
Fits perfectly on MacBook Pro
Looks Cool
Easy to clean
Cons
No room for accessories
No 17-inch model
Won't fit computers thicker than a MacBook Pro
Advertisement