MSI announced the GT780R and GX780 17″ gaming notebooks back in April which caught our eye with a gamer optimized SteelSeries keyboard and a collection of great hardware inside and now you can finally bring one home and get to the gaming. The MSI GT780R is available for $1,749 and the MSI GX780 can be yours for $1,549 from Amazon and Newegg. Both models are already discounted$100 of the suggested retail price.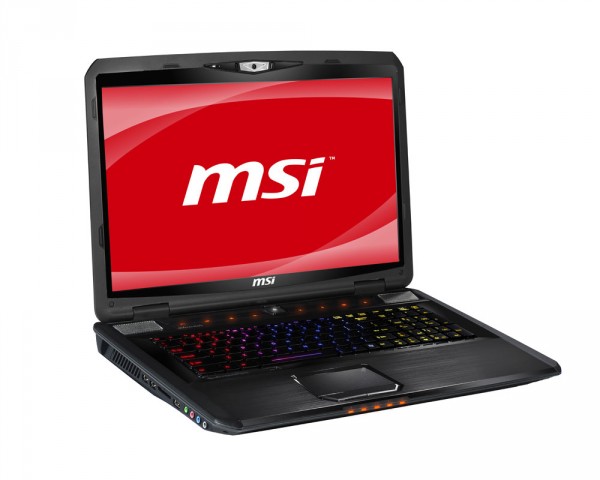 Both of these notebooks include a SteelSeries keyboard, which is more than just a marketing name slapped on for show. The SteelSeries keyboard is designed with the keyboard and mouse gamer in mind. Most notably, the keys are laid out to form a "Golden Triangle" between the A,W,S,D, Ctrl and spacebar keys in order to support the controls used by most PC gamers. IN addition to delivering this key layout, the SteelSeries keyboard ditches the Windows key which is standard on most laptops so that you won't accidentally bump out to Windows while trying to frag a friend.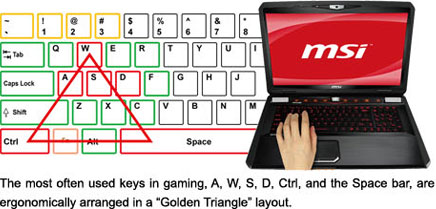 The keyboard also supports up to 10 simultaneous key presses, allowing you to nail complicated key combos as long as your fingers can contort correctly. The keyboard is also LED backlit and like many gaming notebooks allows you to change the color to fit your gaming.
The MSI GT780R and GX780 are both powered by the 2.00GHz Intel Core i7 Quad Core Sandy Bridge processor which supports TurboBoost for those times you need an extra boost of power. The MSI GT780R is using the very latest Nvidia GeForce GTX 560M GPU with 1.5GB Video RAM which supports Direct X 11 and a host of technologies designed to deliver better gaming. The MSI GX780 will be using a Nvidia GeForce GT 555M with 1.5GB of RAM which can handle the latest games as well.
As you would expect on a large gaming notebook, the GT780R and GX780 both deliver a 17.3″ 1920 x 1080 HD resolution so that you won't be squinting down a sniper barrel on anything less than the best resolution.
Rounding out the MSI GT780R and GX780 notebooks are the following features
MSI's Exclusive Turbo Drive Engine (TDE) Technology: TDE provides a boost in graphics performance to accelerate video decoding and add extra excitement to your gaming.
USB 3.0: These notebooks feature a plethora of ports so you can customize your setup and achieve the quickest data transfers. With two USB 3.0 ports and three USB 2.0 ports, you're ready to roll.
Dynaudio Speakers with THX Surround Sound: No gaming experience is complete without booming audio, and MSI collaborated with Dynaudio to build the highest quality speakers plus a built-in subwoofer. Enjoy cinema-quality surround sound with THX TruStudio PRO.
You can find GT780R and GX780 gaming notebooks online form Amazon and Newegg immediately.
Advertisement