MSI announced a collection of new notebooks at Computex 2011 including the MSI X460, the latest addition to the MSI X Series of notebooks. This new X series notebook packs a decent amount of power into a size that looks like a perfect fit for students. The MSI X460 joins the MSI X370 which arrived in April using the AMD Fusion APU processor, but this new model packs the latest Intel Core i Family of processors and a discrete GPU from NVIDIA.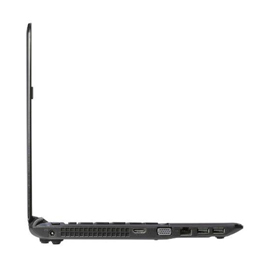 The MSI X460 notebook comes in numerous configurations, but the high end is powered by a Quad Core Intel Core i7 2nd Generation processor and includes a number of features because of this processor choice including Wireless Display 2.0, which sends HD and 5.1 surround to your HDTV without any wires. Additionally, the MSI X460 has a NVIDIA GeForce GT540M GPU with 1GB Video RAM that delivers extra processor power when you need it. MSI doesn't officially confirm it, but the graphics card does support Optimus which is likely how you will switch from the Intel GPU to the NVIDIA GPU. We also assume that this is how MSI can claim 8 hours of battery life.
You can enjoy the visuals on the 14″ display which has a relatively low 1366 x 768 resolution for a notebook packing such high end internals. The X460 also includes USB 3.0 and Bluetooth 3.0 for connectivity and data storage. The built in optical drive can be swapped out for a second hard drive if you need additional storage or want to run your notebook in RAID.
The X460 weighs in at 4.19 pounds and under an inch thick. This is a bit heavier than the traditional ultraportable, which makes it a better fit for students and home users looking for some portability without the high prices of 3 pound notebooks.

MSI  X460 Features:
True-to-life wrap around sound: To enhance the X460's sound performance, MSI worked closely with sound design specialists at Creative to incorporate cinema-grade THX TruStudio Pro wrap around sound which reproduces crystal-clear sound regardless of source.

SRS PC Sound: The X370 comes with new generation SRS PC Sound™ for natural wrap around high fidelity sound whether you use the built-in speakers, external ones, or headsets. This laptop is designed to satisfy your craving for crisp, clear sound.

Smoother visuals: The X460 supports 30 FPS picture display, meaning that multimedia can be played at a maximum of 30 frames per second. When you play first person shooter games at less than 30 FPS, the visuals can be choppy, but the X460 offers a 30 FPS, hiccup-free gaming experience.
The MSI X460 looks like  a nice addition to the X Series line of notebooks and continues the trend of MSI to deliver better and better notebooks. If MSI delivers when these notebooks make it into the hands of consumers the company could gain a larger marketshare in the U.S.
Ultimately the success of the various MSI X460 models will depend on the price of each model. We really wish that MSI had an option for a higher resolution display, especially on the higher end models that come with a Quad Cor  Core i7 processor and discrete NVIDIA graphics. No word yet on pricing and availability.
Advertisement