If you need to connect your Mac to another display or your HDTV, the Kanex mLinq USB to HDMI adapter is a new Mac accessory that fits the bill. This USB adapter will turn a spare USB port into a HDMI port so that you can hook up to a third monitor or HDTV. The Kanex mLinq adapter is $99 and available for preorder now.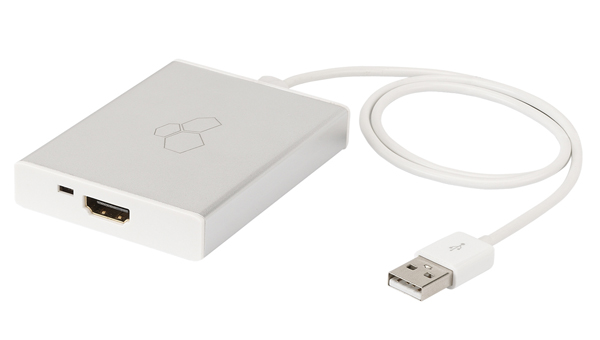 The Kanex adapter can be used alongside the mini-DisplayPort output to deliver a three screen Mac setup, your MacBook Pro screen, the DisplayPort and the Kanex adapter. As far as resolution goes, the mLinq supports an array of HD resolutions up to 1080P. When connected to a monitor you can go all the way up to 1600 x 1200 if you want a higher resolution.
The Kanex mLinq adapter is similar to the DisplayLink adapters we have used on Windows and Mac, but because it uses a HDMI connection it can also be used to send sound to your HDTV with the single cable. The Kanex mLinq is BUS powered which means you don't need a power adapter to use it.
You can order the Kanex mLinq today, but you won't be charged until the product actually ships. Unfortunately, there isn't a date listed, so you'll need som patience. If you need another monitor right now, check out the various DisplayLink powered products we have reviewed, which deliver DVI and VGA outputs from your USB port and are compatible with Mac OS X. Many of these products also include additional USB ports, headphone jacks and more.
If you ge this adapter, check out MenuEverywhere which will put your Mac Menubar on all of your displays for easier access to your menus.
Advertisement