Apple has just released an update to the Mac OS X operating system, bringing the version up to OS X 10.6.7, and addressing the issues many users are reporting with the early 2011 MacBook Pros including freezing and external display glitches.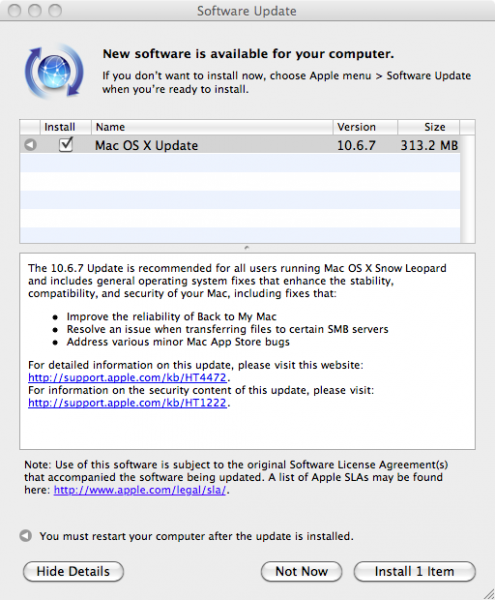 The Mac OS X 10.6.7 can be downloaded  by clicking on the Apple in the upper left corner of your mac and choosing Software update. After the newest OS X version is found, you can download and install OS X 10.6.7.
The Mac OS X 10.6.7 Update for MacBook Pro is recommended for all early 2011 MacBook Pro models.  It includes general operating system fixes for Mac OS X Snow Leopard that enhance the stability, compatibility, performance, and security of your Mac, including fixes that:
In addition to addressing the issues on the new MacBook Pro models, this update includes the following fixes;
Improve the reliability of Back to My Mac
Resolve an issue when transferring files to certain SMB servers
Address various minor Mac App Store bugs
Address minor FaceTime performance issues
Improve graphics stability and external display compatibility
The Mac OS X fix is free and available to all current OS X Snow Leopard users. There is hope that this is the update could address some of the issues that a minority of users have had using their MacBook Air with external displays.
Advertisement