One annoyance of Mac OS X is that, if you hook your laptop up to an external display, your menu bar is only on the laptop screen. With MenuEverywhere, the menu bar can be shown on both the laptop and the external display. This can save some mousing as you work from the external display and therefore only have to mouse to the top of the screen. Adding the Menu Bar to an external display may seem minor, but after running this little app for the last two weeks, Ican attest to the usefulness of this app. That's not all, this handy $14.95 utility from Binary Bakery has other useful features too.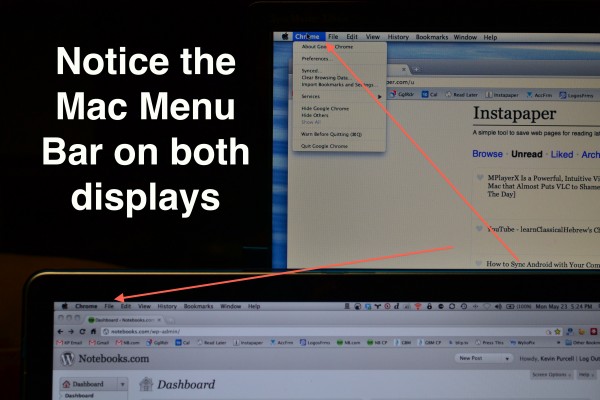 This simple utility can run in the background all the time and give you your menu everywhere, just as the name suggests. You can configure the application to show a menu as follows:
On the top of your application screens like Windows style menus
At the top of each display – see picture above
With just a button incorporated into each application window that can be clicked revealing the entire menu
A floating button like the above option only not inside the window
In a right-click or CONTROL + click pop up menu
All of the various customizations are accessible in the preferences window. You access it from the menulet (those little icons of the programs running in the background) on the man screen.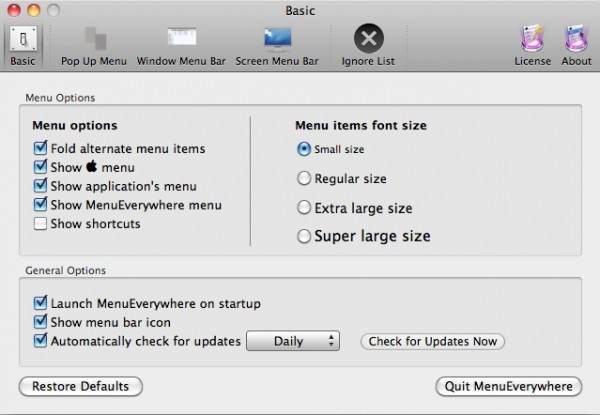 The biggest complaints we have about the app is that it does not extend the menulets to the external display. Also, the menu bar can get in the way of some applications which don't adjust to having the menu on the screen. The result is the top of such applications are hidden by the second display's MenuEverywhere menu. The way to fix this is make the menu translucent in the preferences under the Screen Menu Bar tab. If you attach the menus to the application windows instead of the screen, you can optionally tell the program to ignore certain applications, not showing the menu on their windows.
If you want to try MenuEverywhere out before buying, there is a two-week trial . Unfortunately it is not yet available in the Mac App Store. This is a simple and useful application that we recommend you try.
Advertisement