Panasonic has just announced the new Toughbook 53 and an update to the Toughbook 52 rugged notebooks. The Panasonic Toughbook notebooks are designed to go into conditions that would make other break into pieces. If you aren't familiar with the Toughbook line, it has some of the ruggedest notebooks on the market — these notebooks can survive a fall to the deck of an aircraft carrier, being pulled behind a snowmobile and more. The Toughbook 53 is a brand new notebook and the Toughbook 52 has been updated to include the latest Intel 2nd Gen Core i processors.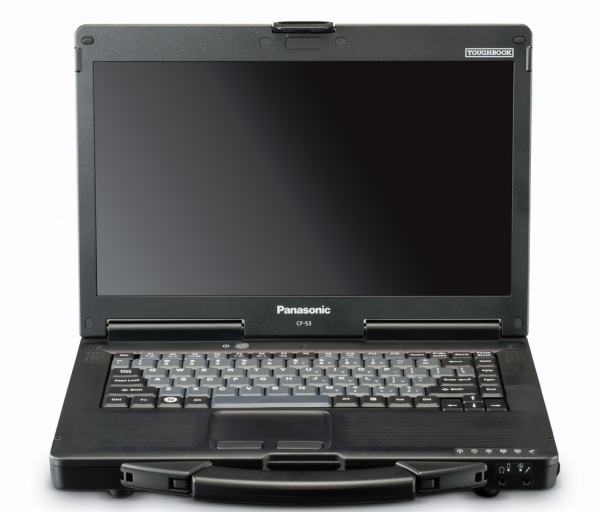 The new Panasonic Toughbook 53 comes with the latest Intel Core i5 and Core i7 Sandy Bridge processor options and a claimed battery life of up to 10 hours. The Toughbook 53 has a 14″ display with a 1366×768 resolution with a 2,800 nit brightness so that you can see the display outdoors. The notebook can also include an optional touch screen, 1.3MP webcam and integrated mobile connectivity including 4G LTE from Verizon, possible the first for a business notebook and certainly the first for such a rugged device.
The Toughbook 53 comes with a a healthy offering of ports and security options including a fingerprint reader ands Smartcard slot. The notebook will hook up to your peripherals thanks to the included ExpressCard, SD card reader, PC Card slot, HDMI,VGA, audio , Ethernet, USB 2.0 and USB 3.0 connections. The notebook can also be configured with a Firewire port if you need one for your applications. For storage, the notebook starts with a 5400RPM drive buit can be ordered with a faster 7200RPM drive or an SSD.
Panasonic ToughBook 53 Hands On Video
The Toughbook 53 is designed to meet the demands of a rugged environment surviving drop tests on all sides from 30 inches and packing a spill resistant keybaord that can reportedly be used in the shower. As we mentioned, Toughbook notebooks are designed to go where other notebooks can't. The specific rating is for MIL-STD 810 for altitude, humiditiy and dut. The built in shock mounted feature is tuned to protect the internals from movement while in use as a passenger.
The Toughbook 53 will be available in June with an Intel Core i5 2nd Gen processor for $1,899 and the Core i3 version will land in August for $1,599. The Touchscreen Toughbook 53 is set to arrive in July with a Core i5 2nd Gen processor for $2,499. No specific dates were given for the Toughbook 52 with Sandy Bridge processors.
Toughbook 53 and Toughbook 52 Gallery
Advertisement