Lenovo is boasting a new technology called RapidBoot Extreme that starts up a system in about ten seconds, thanks to SSD storage and some interesting prioritization of the various elements in the computer as it makes them available for use after booting up the system. With the help of two celebrities – Danica Patrick of racing and GoDaddy fame and our very own publisher Xavier Lanier – Lenovo demonstrated the prowess of RapidBoot Extreme at this year's CES 2011. We have the video, which was recently used in Lenovo's advertising.
As you can see from the video, the RapidBoot technology actually beat out the blazing fast MacBook Air known for its fast SSD storage. It only took about ten seconds to load. The way it works is the BIOS (the built-in software that starts up each part of the notebook computer and makes it available to Windows prioritizes which aspects of the computer to start so that the computer doesn't even start up things like the following:
No Lenovo logo screen at boot
ThinkVantage button
USB ports and anything on them like keyboard, mouse, fingerprint reader
Wireless functionality
As a result anything that uses the above won't work until Windows is loaded. Then the BIOS starts them up and Windows recognizes them and makes them usable after it has loaded the operating system. Because of this prioritization the computer loads much faster despite not having an SSD like the MacBook Air.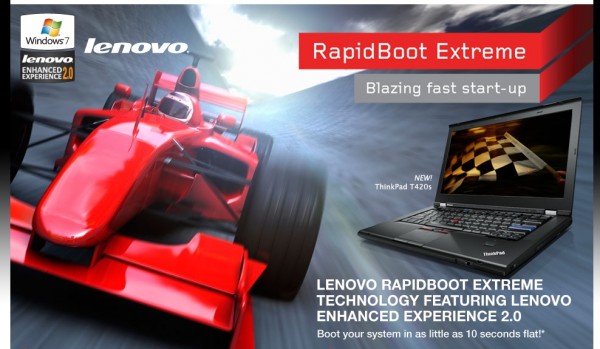 We attempted to shave some time off the loading of our MacBook Pro by installing a  Seagate Momentus XT hybrid hard drive, which marries both a traditional hard drive plus some flash storage for important things like the operating system or files/programs used frequently. While this kind of hard drive/SSD does make our MacBook Pro faster, it cannot compete with an SSD or the Lenovo RapidBoot Extreme technology. While they demonstrated a ten second boot time and just a little longer for the MacBook Air, our MacBook Pro with the Seagate Momentus XT hybrid hard drive boots in about forty seconds. That is faster than the stock 5400 rpm drive that came with the computer, but it is nowhere near as fast as Lenovo's.
Every second you can shave off the load time of a computer is nice, but is this groundbreaking or earth shattering technology? We don 't think so. With sleep and hybrid modes on laptops, fewer people are booting their computers from a cold state these days. Still, faster is better so long as it doesn't add much expense, so Lenovo is to be commended for their efforts.
At this time you can get the RapidBoot Extreme (part of the Lenovo Enhanced Experience 2.0) in the new ThinkPad T420s. It is an Intel Core i5 Sandy Bridge laptop with a 14″ display. For now this is the only system Lenovo sells with the new technology. They start at $1,679. Having Danica Patrick to start up the computer for you will cost extra, to be sure.
Advertisement